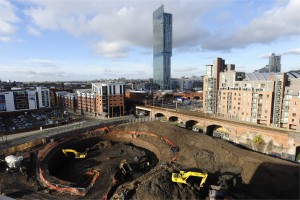 Products and Services
Celtic-EnGlobe offer a range of core services, all designed to deliver a build ready platform for your brownfield project.
We listen to what you need, take on board each individual site's specific challenges, then provide you with the best possible solution from both a cost and programme perspective.
Read more
Celtic-EnGlobe is one of the leading remediation and brownfield enabling works contractors in the UK, with a proven track record of delivery after more than 20 years in the industry.
Celtic is part of EnGlobe corp, a world leader in providing integrated environmental services which operates in the UK, France, the Middle East, the USA and Canada. By partnering with Celtic, you are able to rely on the Company's extensive experience and delivery capability. Celtic listen to and understand your needs, and by working closely together the Company help you to overcome the challenges associated with brownfield developments.
Following establishment of the first UK soil treatment facility (STF) in 2005, Celtic's sister company, Biogenie-Englobe, has grown to become the operator of the largest number of UK STFs. Through this network of treatment facilities, a joint venture with Biffa waste services, we are able to provide you with national coverage for sustainable, fully compliant and crucially, landfill tax free, off-site treatment of a wide range of hazardous wastes.
Read more