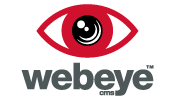 Products and Services
Webeye Ltd had great success with the Webeye CMS platform and has now developed a range of products and services working with the platform for a safer world. The Company's current product range includes:
Webeye CMS
Webeye RSI
WebeyeSOS
WebeyeSOS track me

Webeyedacs
Read more
Leading cloud based alarm monitoring solutions
Webeye Ltd's wealth of experience in the security technology industry has lead the team to develop the world's first fully cloud based alarm monitoring solution ideal for use by anybody involved in security.
The world beating cloud based system Webeye CMS alarm and monitoring system has become the benchmark for secure and reliable alarm delivery and customers can expect the best technology and robust service unmatched anywhere else, and all at the most competitive price.
The products and services provided by Webeye Ltd give customers a level of protection and security that is quite simply unequalled at the prices quoted.
Read more