The Roofing Cladding and Insulation (RCI) Show
18-19 October 2022, Stadium MK, Milton Keynes
About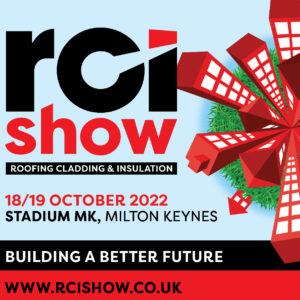 The Roofing Cladding and Insulation (RCI) Show is the largest UK event where the entire roofing, cladding and insulation supply chain comes together.  The vibrant two-day event allows visitors to compare and source new products, learn from the experts and hear about the important issues currently impacting the market.
The RCI Show is confirmed to return from 18-19 October 2022 at Stadium MK in Milton Keynes. Brought to you by the RCI Magazine, the show will be celebrating its sixth year as the UK's dedicated roofing, cladding and insulation event.
Over the years, the RCI Show has become a key date in the industry calendar for thousands of contractors, installers, surveyors and specifiers, and this year's vibrant two-day event is expected to attract significant visitor numbers and manufacturers, associations and suppliers who are eager to engage face-to-face once again.
Whether you're searching for the most up-to-date product innovations and services; the latest news, trends, and best practice guidance; access to thought-leadership content; or you want to extend your network, then the RCI Show can fulfil your goals by reconnecting you with key experts across the entire roofing supply chain.
Our seminar programme will be launching beginning of August but subject areas include: Modern Methods of Construction (MMC), Inflation, Brexit and moving to UKCA markings, Cladding regulations, Building Safety Act 2022, Fire safety, Sustainability, Electric vehicles, Supply chain issues and more!
>> Don't miss out visit www.rcishow.co.uk to register for your FREE ticket!
Alternatively, if you're interested in exhibiting at the show please contact Tony Brown at [email protected] or on 07979 506 896. Exhibiting at the RCI Show is the ideal way to meet new contacts, test out new products and boost your sales pipeline for the year to come. Be part of the extensive multi-channel marketing campaign before, during and after the event. All stands at the 2022 show are shell scheme only and the largest stand is capped at 21m², providing a cost effective marketing vehicle for your business.
@rci_show #RCIShow2022