The Height of Good Sense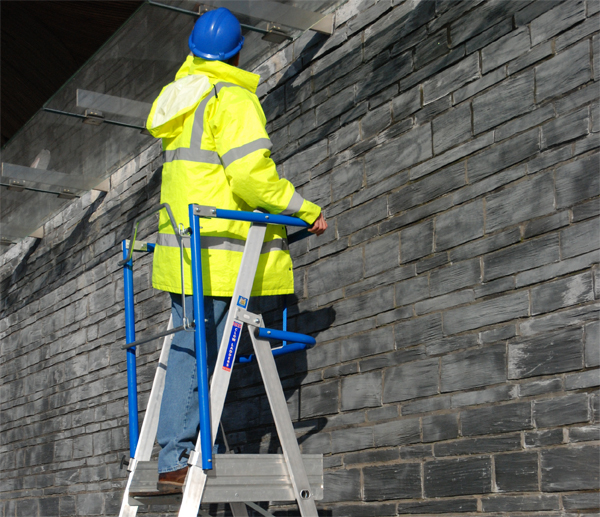 'Best practice' in working at height by Ian Lofthouse, Buck & Hickman
More than 4,000 people a year in the UK suffer major injuries from falls while working at height and it is a major cause of workplace death. While the majority of these incidents occur in construction, other sectors of employment are also affected.
Most of the major injuries are associated with falls of less than two metres. The practice of working at height is also risky for those who might be standing below, through objects such as tools being dropped onto them and causing injury.
The Work at Height Regulations (2005) state that employers have a duty to assess the risks and plan and supervise all workers who work at height. The Regulations require all employers to ensure that any task which is to be carried out at height has been properly planned, is fully supervised and that it is only carried out by those who are competent to do the work. They must also ensure that operatives receive thorough instructions and training, and that they are given all the necessary information required in order to carry out their tasks. The Regulations cover everything from how workers access working at height to how they and their tools are prevented from falling to the ground.
It is essential that appropriate work equipment is selected and used and that people working at a height are competent to do so. Equipment used for work at height must be properly inspected and maintained, while risks from fragile surfaces must be properly controlled.
Work must be planned, organised, supervised, and carried out by competent persons, using the following hierarchy of controls:
Avoid work at height wherever possible where there is a risk of significant injury
Prevent falls where work at height cannot be avoided by using suitable measures, such as guard rails or work platforms, that protect all workers
Mitigate falls: minimise the distance and consequences of a fall where the risk of a fall cannot be eliminated by using personal protective equipment such as fall arrest systems
Take additional measures if it is not reasonably practicable to avoid, prevent or mitigate falls, such as the provision of additional instruction and training, and the demarcation of edges with painted lines
Set up protection schemes to prevent injuries to people below from dropped tools, securing all tools from falling and taking every precaution underneath workers to prevent any objects that are dropped from falling on those standing below (a claw hammer dropped from 6m is equivalent of being dropped from the second floor of a building, attaining 24 mph/39kph on impact with an impact weight of 117kgs)
If the workplace contains an area in which there is a risk of someone being struck by a falling object or person, ensure that the area is clearly indicated and that, as far as is reasonably practicable, unauthorised people are unable to access it
For those who do not work at height very often or are unsure about which type of access equipment to use, it is important that the risks are assessed and the right equipment for the job is selected.
If it is a light duty task that will take less than 30 minutes and the task can be completed mostly with one hand, or temporary access to a fixed working platform is needed, a ladder, step ladder or combination ladder may be appropriate.
If the task is less than 3.8m high and two hands are needed to complete the job, a podium step or folding platform may be required.
For tasks above 3.8m or which need access in the same place for an extended period, a prefabricated scaffold tower may be suitable. If the work comprises several tasks up to 15.9m high and not all in the same place, the best solution may be a MEWP (Mobile Elevated Work Platform) or powered access equipment.
For longer duration work at height in a fully guard-railed work zone with a larger work area and work load capacity, towers may be needed.
The overriding criteria when selecting equipment for work at height are: use the most suitable equipment; give collective protection measures (e.g. guard rails) priority over personal protection measures (e.g. safety harnesses); take account of the working conditions and the risks to the safety of all those at the place where work equipment is to be used.
The Work at Height Regulations 2005 apply to all work at height where there is a risk of a fall liable to cause personal injury. It places duties on employers, the self-employed, and any person who controls the work of others (e.g. facilities managers or building owners who may contract others to work at height) to the extent they control the work. It is the responsibility of all companies involved in working at height to know the law surrounding worker safety and dropped objects, and to follow it accordingly.
For more information on the range of products and services available from Buck & Hickman, visit www.buckandhickmanuk.com or call 08450 510 150.