Cabinet Secretary visits Shieldhall Tunnel Project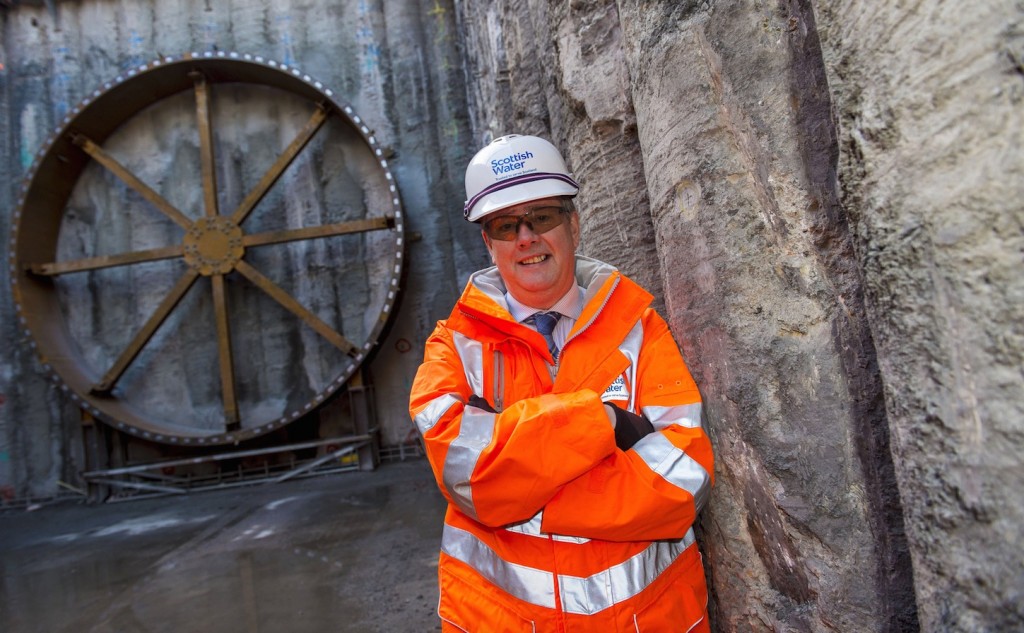 The Cabinet Secretary for Infrastructure, Investment and Cities visited Shieldhall Tunnel project to see how work is progressing on the largest wastewater tunnel to be constructed in Scotland.
Situated at the Craigton Industrial Estate in south west Glasgow, the tunnel, measuring 3.1 miles long and 4.7 metres in diameter, will be five times longer than the Clyde Tunnel.
Cabinet Secretary, Keith Brown, was on hand to check on the progress of preparations to allow tunnelling to begin.
The tunnel is a vital piece of Scottish Water's £250M, five year programme of work to tackle flooding and improve river water quality and the natural environment.
The open cut technique will be used on the first 250 metres of the tunnel and the launching chamber, involving excavation between concrete piled walls bored into the bedrock. A state-of-the-art Tunnel Boring Machine is expected to arrive on site within the next few weeks with construction beginning on the tunnel between Craigton and Queens Park.
Once complete, it will give 90,000cu m of extra storm water storage and the increased capacity of the waste water network will provide better screening of overflows into rivers and reduce the risk of flooding in parts of the Mount Florida and Giffnock areas.
Mr Brown commented: "I'm delighted to be here to see how the Shieldhall Tunnel project is progressing. This project is the biggest upgrade of Glasgow's sewer network in over a century and is a central part of Scottish Water's investment programme to improve the area's drainage and sewerage infrastructure, which is essential to the Greater Glasgow area's economic prosperity.
"It is another fine example of Scottish Water's determination, as a public sector organisation to deliver for its customers and the Scottish Government is fully supportive of this kind of investment in key infrastructure projects in Scotland's biggest city."
Douglas Millican, Scottish Water's Chief Executive, said: "Much of the Greater Glasgow area's existing waste water infrastructure was built in Victorian times and the modernisation of the system and construction of new underground assets, such as the Shieldhall Tunnel, will protect the natural environment, reduce the risk of flooding and meet the needs of growth, economic development and regeneration.
"It is also supporting jobs and employment opportunities, including a number of apprenticeships."
The Glasgow Tunnels Partnership is a commercial joint venture between Costain and VINCI Construction Grands Projects (corr.) called CVJV and will be responsible for building the Shieldhall tunnel.