£500M Birmingham Smithfield regeneration plan launched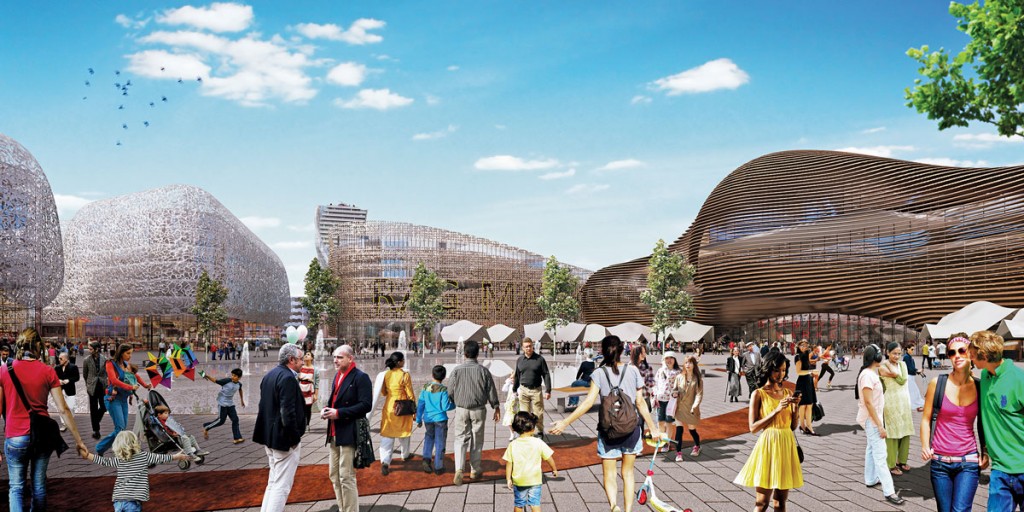 Birmingham Smithfield to rejuvenate 14 hectares in of prime city centre land
Birmingham City Council has today announced the launch of a £500M plan to regenerate a major part of the city centre.
The Birmingham Smithfield regeneration plan will deliver over 100,000sq m of floorspace, 1,000 new homes and 3,000 new jobs. It is expected to add £470M GVA to the local economy, attracting millions of visitors to the city over coming years.
The plan builds on the area's rich heritage and focuses on the retail markets. It will create a vibrant new area featuring high quality pedestrian and cycle routes, with new public spaces. This includes a Market Square which will form a focal point for the site, around with the markets and family leisure quarter will be located.
There will be an integration of the city's Midland Metro tram system to bring Birmingham Smithfield within minutes of the proposed HS2 rail terminus at Curzon, and the public transport facilities at the site will be enhanced.
Sir Albert Bore, Leader of Birmingham City Council, said: "Birmingham has an impressive track record of investing in its future. The £600M redevelopment of New Street rail station will complete this year, while the transformation of its retail scene – which includes the Mailbox, Grand Central, Selfridges and John Lewis – will drastically improve what the city has to offer. Birmingham Smithfield presents a once in a generation opportunity to build upon our recent successes and deliver a truly unique asset for the city. Our plans for Birmingham Smithfield will create a vibrant new destination – adding to the city's reputation as a top visitor destination and a great place to live and do business."
Birmingham Smithfield is expected to further establish the city's reputation as an increasingly popular visitor destination. The city attracted a record 34 million visitors from outside the region in 2013, and has seen a 32% growth in the international tourist market following a marketing target of Chinese and Indian visitors.
Andy Street, Chair of the Greater Birmingham & Solihull LEP, commented: "Birmingham Smithfield provides a new and exciting opportunity to secure investment for the city's gathering renaissance – which will create new jobs and long-term economic growth. The site's status as part of the City Centre Enterprise Zone will bring added impetus. The LEP is absolutely behind realising huge opportunities such as Birmingham Smithfield, and over £40M of Enterprise Zone funding has already been committed to supporting the delivery of these plans."
The plan for Birmingham Smithfield has being unveiled at international real estate show MIPIM, where major cities across the world showcase their development opportunities to international investors.
Waheed Nazir, Director of Planning and Regeneration at Birmingham City Council, added: "The opportunity to create such a unique and vibrant development is very rare. Birmingham Smithfield will have a transformational impact that capitalises on the area's unique heritage and focus for markets. It will radically enhance the city's retail, visitor and residential offer, as well as unlocking the growth potential of a much wider area. By showcasing the scheme at MIPIM, we are directly targeting potential investors and developers to secure interest from across the globe."