Contracts announced for Camden Lock Village development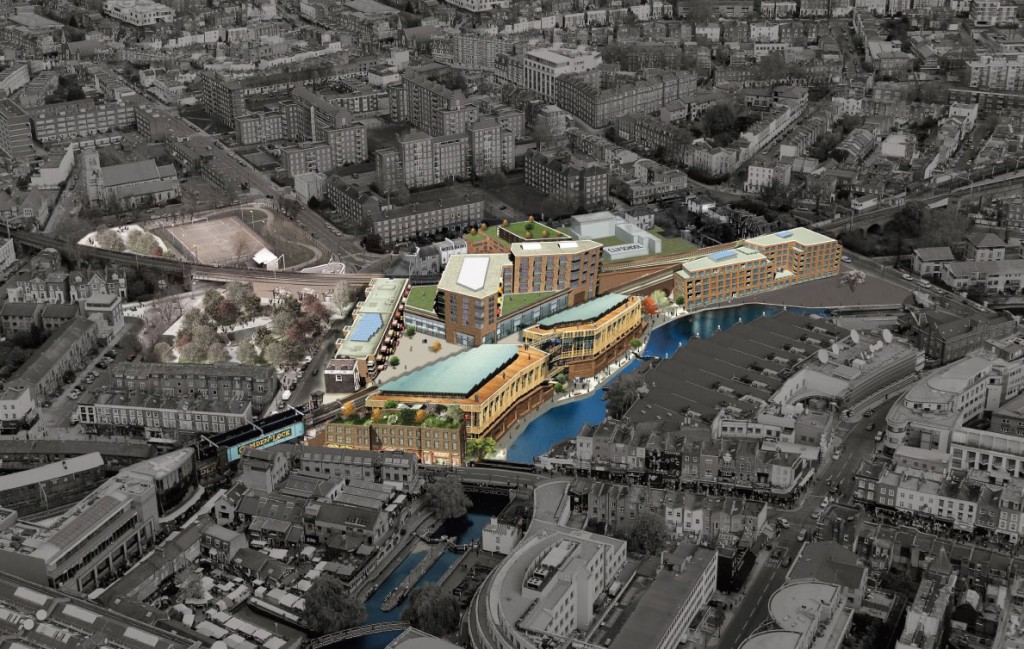 First phase of work at Camden Lock Village to include new housing, offices and schools
Mace and McLaughlin & Harvey have been announced as contractors on the Camden Lock Village development at Camden Market by Market Tech, the holding company that owns and manages the main Camden Markets in London.
Mace has been appointed as main contractor for the first phase work at Camden Lock Village, which is also known as Hawley Wharf. This phase of work will result in the delivery of over 170 new private and affordable homes, retail and market places, around 9,175sq m of employment space and a high quality public realm. In addition to the new buildings there will be work carried out on existing Network Rail viaducts and the Company will carry out new incoming utilities works.
The new public open spaces are set to benefit existing and new residents, workers and visitors by providing improved permeability and connectivity across the Camden Market site. There will be new pedestrian routes, reconnecting the site with its neighbourhood, and forming a series of distinctive spaces characterised by the surroundings.
McLaughlin & Harvey has been appointed as specialist contractor to build a new infant and junior primary school and nursery as part of the Camden Lock Village development. This will be delivered first and is expected to open at the start of the 2016/17 academic year.
Mark Alper, UK Group Property Director for Market Tech said today: "We are delighted to have appointed two very experienced, high quality contractors to deliver Camden Lock Village.  It is an exciting time for us to start seeing the delivery of our vision – a new school for the community, much needed homes, new shops and of course some market space, alongside significant improvements to the canalside.  Both Mace and McLaughlin & Harvey recognise the importance of this project to us, to the local communities and to Camden.  We will all seek to deliver this project to a high standard."
Chief Operating Officer for Construction at Mace, Gareth Lewis, said: "This is a fantastic win for Mace to rejuvenate one of London's favourite visitor destinations and deliver an iconic project for the capital. We have a strong track record for the delivery of cultural projects in London including the British Museum's World Conservation and Exhibitions Centre, the Tate Modern and the London Eye. Mace was based in Camden for much of the past 25 years and we have great affection for and knowledge of the area. We're therefore delighted to have this opportunity to bring our residential expertise and focus on innovation and high-class delivery to the benefit of the local communities."
Simon Underwood, Director for Mace, said: "This is just the kind of project that we relish working on: delivering a high quality mixed-use scheme that will have a profound and positive impact on the people that live and work in the area. This is great opportunity for Mace to bring residential, construction and community engagement expertise together to deliver a world-class development and the team is eager to be able to bring this know-how to Camden Lock Village. Regeneration is not just about building, it's about building a legacy that responds to, and enhances, the character and future prospects of an area and we are excited to get started on the project."
Market Tech Holdings Ltd has also announced the appointment of architecture firm Piercy&Company to take forward a planning application for Camden Lock Market, one of the existing markets that Market Tech acquired in autumn 2014.