Crossrail a step closer following Elizabeth line track completion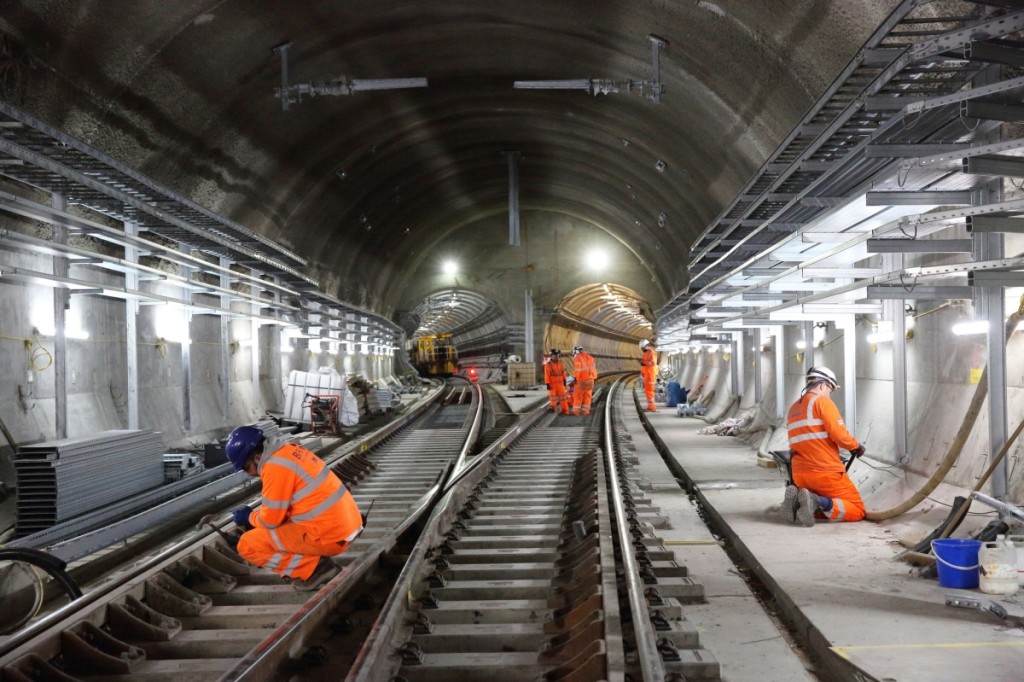 The last of the Elizabeth line's permanent track has been laid, bringing Crossrail – the capital's landmark rail network – that much closer to completion.
On Thursday 14 September, Transport Secretary Chris Grayling – together with Val Shawcross, London's Deputy Mayor for Transport – joined Crossrail Chairman Sir Terry Morgan and Chief Executive Andrew Wolstenholme to commemorate the milestone 35 metres below ground. There, the final rail clips were affixed to the permanent track by Ellen McGuinness, Track Quality Control Engineer at Alstom.
The £14.8Bn Crossrail project now enters into its next stage, with construction trains able to traverse the network from end to end. One such train made the journey this summer – entering at Plumstead in East London, passing through nine new central station platforms and exiting at Royal Oak Portal to the West.
Around 1,000 skilled workers have laid the 63,000 rail sleepers required, with 51,419 metres of track and 800 sections of Long Welded Rail (LWR) spanning the 50+ kilometre Elizabeth line. Meanwhile, 13,500 cubic metres of concrete was poured by the concreting train as part of the installation.
"The completion of the Elizabeth line track is a huge milestone on the way to finishing a project that will transform transport across London and the South East," said Sadiq Khan, Mayor of London. "With brand new trains and step-free stations, the Elizabeth line will provide a truly world-class service for passengers, and this important landmark is testament to the hard work and expertise of all the men and women who have been working on the project.
"Alongside progressing plans for Crossrail 2, the completion of the Elizabeth line will be vital for helping us deal with London's growing population, it will boost jobs across the UK, and improve the quality of life for millions of people living and working in the region."
Crossrail Chairman Sir Terry Morgan concluded: "The completion of the permanent track brings us another crucial step closer to the Elizabeth line opening in December 2018. We're delighted to be officially marking this important milestone as it also signifies a great achievement for all the dedicated men and women who are working on the project. The Elizabeth line will transform rail travel across London and the South East for millions of passengers with faster journeys, less congestion and improved travel links for a better connected London."
There's little more than a year to go until the Elizabeth line opens to rail-goers, and Crossrail will now move on to the installation of all-important signalling, tunnel ventilation and communications systems, in addition to the overhead lines that will power a brand new fleet of trains.
If you would like to read more articles like this then please click here.