Defence Minister visits new service accommodation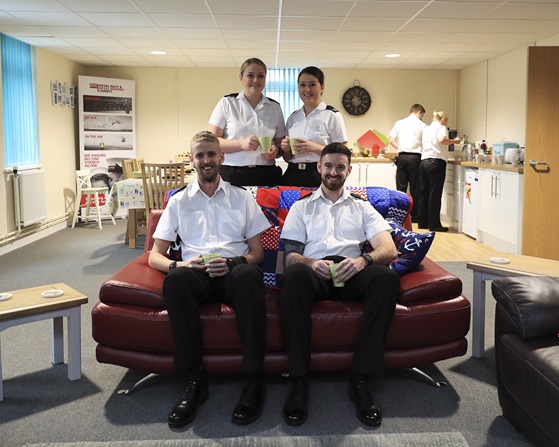 Work to develop new service accommodation in Portsmouth has completed, with the opening marked by a visit from Defence Minister Mark Lancaster, Naval Base Commander Commodore Jeremy Rigby and the Chief Executive of the Royal Navy and Royal Marines Charity (RNRMC) Robert Robson.
Accommodation at the naval base creates a home-from-home for Service personnel, helping the Royal Navy to support service families by having a warm, welcoming environment to spend time in as a family.
The 'Navy Mews' self-contained units can be hired by service personnel for short periods, with priority for single parents or those restrained from spending time with their families.
Defence Minister Mark Lancaster said: "We are committed to ensuring our personnel receive the best accommodation and support possible. These flats will allow naval personnel with children and single parents in particular, to spend more family time together."
The project is the brainchild of Portsmouth Naval Base's accommodation and facilities team.
Commander Martin Evans, the Portsmouth Naval Base Executive Officer, said: "We identified a need some years ago; if a service person is the primary caregiver in a child's life, the MOD will always provide a permanent home – however separated single parents often struggle to retain quality contact with their children because of a combination of the restraints imposed by Service life, the costs involved, and the lack of an accessible 'home-from-home' facility.
"We wanted to provide somewhere where these parents can have a feeling of normality rather than a hotel where they can cook and eat together, read together, play together and bond in a home environment."
The project has been funded by the Royal Navy and Royal Marines Charity (RNRMC), which granted £250,000 for the project in 2015. Portsmouth Naval Base's own Leisure and Amenities fund has also contributed to the development with BAE Systems delivering the project at cost.
Numerous charities and community groups are supporting the project, including a number of local charities, community groups and suppliers who have helped to furnish the flats, the Service families' community, who have provided toys, games and books to set up the perfect family environment and a group of seamstresses, who are part of service families themselves, who have hand-made soft furnishings to bring a homely touch to the flats.
The accommodation houses three to seven people, and boasts a full suite of modern appliances, games, kitchenware, central heating and television equipment.
Some £100M is being invested by the MoD in HMNB Portsmouth over the next six years, this includes redevelopment to house the UK's largest ever warship the Queen Elizabeth which is due in her home dock later this year.
Robert Robson, Chief Executive of the RNRMC, said: "We are delighted that our project at Navy Mews, in the heart of the Royal Navy in Portsmouth, is ready for use.
"Providing these flats for our families will make it so much easier for people to spend time together – and at a time when the Naval Base is readying itself for the arrival of the two biggest ships in the history of the Navy, they have never been more badly needed.
"I wish everyone staying here a warm and comfortable home from home."
Leading Seaman Andy Till is the first member of the naval service to use the accommodation and is very supportive of the initiative, he said: "I stayed here with my daughter for two days and it's just like being at home.
"It really is fit for purpose, it has everything you need and my daughter really enjoyed it. She's asked to come back but I think we should let other families enjoy it before coming back ourselves. I'll definitely recommend it to other guys I know in my situation and encourage them to use it as well."
If you would like to read more articles like this then please click here