Double award success for Mersey Gateway Project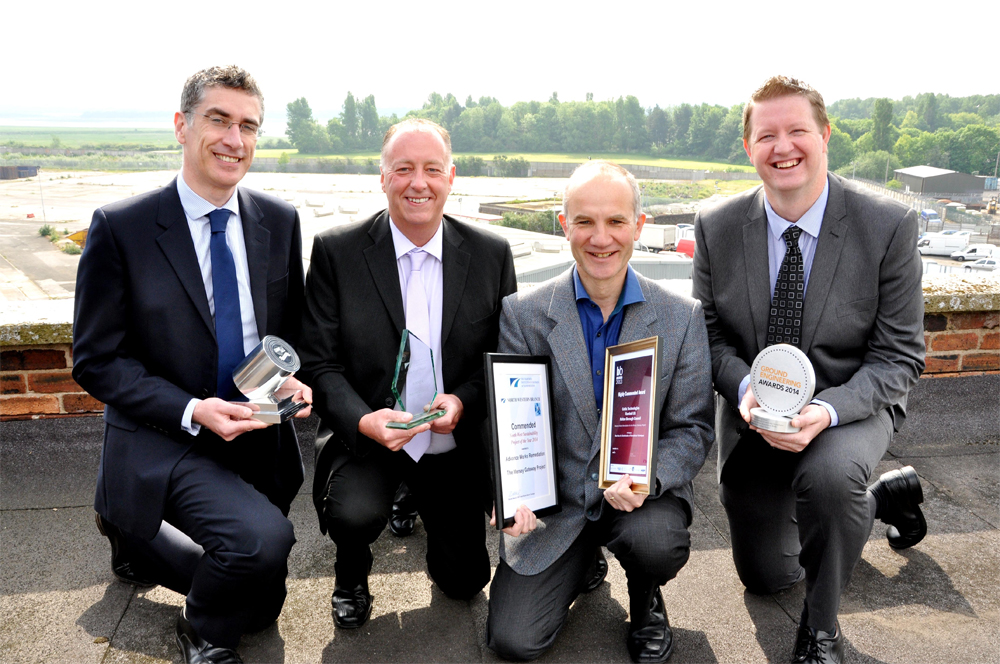 Work began on the Mersey Gateway Project just last week and already the team behind the project are celebrating after scooping national awards.
Award ceremonies held this week included the national Ground Engineering Awards in London, where the project won the 'Sustainability' award, and the North West Chartered Institute of Highways and Transportation (CIHT) awards, which added the 'Best Practice' title to the project.
The project was also declared highly commended at both awards, in the Technical Excellence category at the Ground Engineering Awards and the Sustainability category at North West CIHT.
The awards were for the remediation, or clean up, work undertaken at the Catalyst Trade Park site in Widnes, one of the several key remediation sites with high levels of contamination along the project route due to the industrial and chemical history of the area.
The Catalyst Trade Park site work took 13 months and completed earlier this year in order to allow the main construction works, supplying a new six-lane toll bridge over the River Mersey, to start promptly.
The work was planned and overseen by Halton Borough Council and delivered by the councils technical partners Ramboll and Celtic Technologies and representatives from all three were present to receive the awards.
Dr. Peter Fitch, Ramboll's Principal Contaminated Land Engineer, said: "I am delighted that the success and importance of this work has been recognised by two different leading industry bodies. We worked with specialist experts from Celtic Technologies Ltd to do the work, and almost 17 tonnes of chlorinated solvent were removed from the ground on the site, which was way in excess of what we originally envisaged."
Trevor Bamber, Project Manager for Celtic Technologies, said: "The work involved lowering the water table and letting air into the soil. A large vacuum was then applied to the ground to remove the solvent and air at the same time as the water was pumped out so that everything could be dealt with together. The water was treated and re-injected back into the ground, while the air was cleaned before being released into the atmosphere."
Rob Polhill, Leader at Halton Borough Council said: "It's great news that the Mersey Gateway team is winning awards. A lot of people have invested a great deal of time and energy into the planning work that has got us to the construction phase and I'm really pleased that these awards recognise their achievements."
The main construction work on the project began last week, the first phase of which involves the Merseylink Consortium building access roads across the sensitive saltmarsh environments on both sides of the river.