Network Rail track delivery partners announced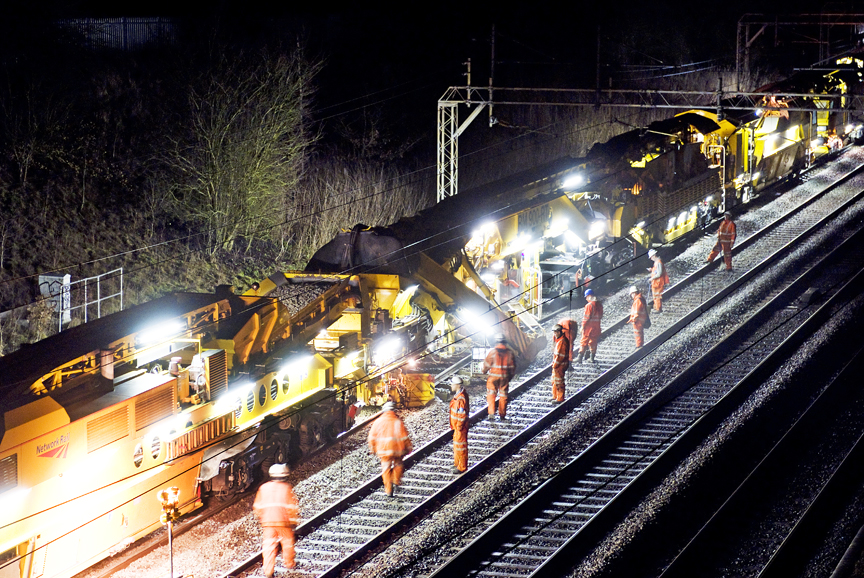 Network Rail today announced the preferred bidders for the delivery of it's circa £800m 2014-2019 conventional track renewals and enhancements programme, as well as a change to the way the company's growing 'high output' track programme will be delivered.
Due to the increase in the traffic, weight and speeds of trains across Britain more frequent maintenance and renewals are needs in order to keep tracks in a suitable condition.
The current funding period for Network Rail runs from April 2014 to March 2019 and will see the renewal of more than 7000km of track, as part of a £25Bn investment programme to provide a bigger, better railway for the country.
The track strategy for Network Rail is split into three specific work streams: plain line (conventional); switches and crossings; and plain line (high output). The announcement today has confirmed that following a competitive procurement process three bidders have been successful in the conventional plain line track works. Babcock, Carillion and Colas will deliver work across seven geographical lots worth £375M in total over the five year period.
The switches and crossings (S&C) renewals will combine the skills of designer, installer and Network Rail as part of an 'alliance'. The alliances, Amey Sersa and Colas URS, will bid for tenders and will each work on one of two larger areas, worth up to £400M. This contract will run over the next ten years and its form will allow Network Rail to work in alliance with the companies to achieve aligned goals and objective for the S&C works.
Steve Featherstone, Network Rail track programme director, said: "Today, there are a million more trains on our network than a decade ago and that number increases every year. Working with our delivery partners, we will deliver a massive programme of work to maintain, renew and enhance thousands of miles of track over the next five years, with the goal of providing a more reliable railway for passengers and freight."
In addition to the announcement of the conventional plain line work procurement process winners and the S&C work alliances, Network Rail today declared it will be taking direct responsibility of the delivery of its national high output plain line renewals programme. This will be done by insourcing its principal contractor team when the exsiting contract expires in March next year. High output track renewals allow Network Rail to replace more and more track while allowing trains to run safely on adjacent lines, minimising disruption to services.
The high output team is currently employed by AmeyCOLAS and by bringing it in-house Network Rail will create a less complex organisation with greater stability. The company's commitment to further improvements in workforce safety, train performation and value for money will be easier to obtain with the support of an in-house team and the team will also be able to put long term investment into people and machinery to support the track renewals programme. Around half of the 1,200 people who work on the high output programme, will be affected by this announcement.
Steve Featherstone continued: "Our full-time, professional high output track renewals workforce is fundamental to delivering a safe, reliable railway. By creating a single team within Network Rail we can make step changes in training and development in order to further improve safety and productivity within this key part of the industry."
High output track renewal involves large, automated 'factory trains' which are owned by Network Rail and typically each work five nights a week on the network. The renewals are completed overnight with regular trains passing on adjacent lines. Network Rail's operation comprises five ballast cleaning systems and two track relaying systems. Around 65% of all track replaced on the network is completed by the high output team.