New timelapse video shows progress of Liverpool FC's new Main Stand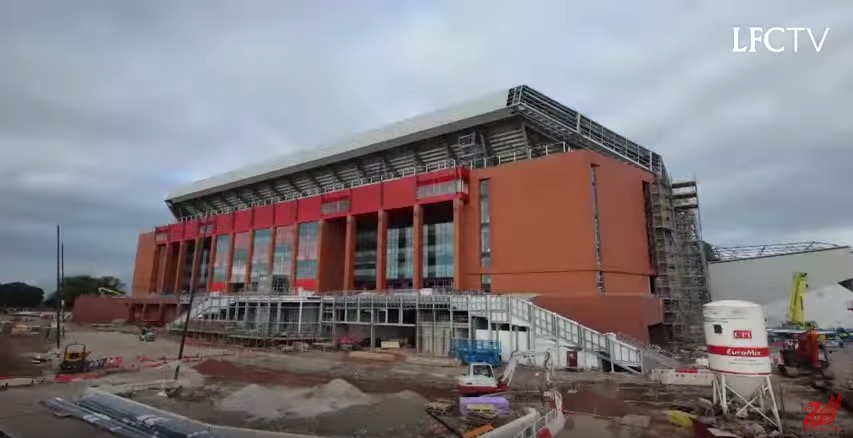 A new timelapse video of the construction of Liverpool's new Main Stand has been released, as the stadium gets ready for its first Premier League fixture of 2016/17 against champions Leicester City on September 10.
In December 2014, the club announced its plans to add around 8,500 seats, increasing the Main Stand capacity to over 20,000. This will see the ground's total capacity increased to 54,000.
The new stand will comprise of three tiers, with the existing lower tier being modified to allow for a widened player tunnel, disabled spectator areas, team and management dug outs and media platform.
The new video reveals the change in the façade of the stadium over the past eight and a half months. Construction on the new Main Stand began 623 days ago.
The club were given permission by the FA to begin their Premier League campaign away from home, and no home friendlies were arranged in pre-season.
The five-times European Champions have had a mixed start to the 2016-17 Premier League season, winning a seven goal thriller against Arsenal at the Emirates Stadium before succumbing to a shock 2-0 defeat to newly promoted Burnley at Turf Moor.
The Reds will be hoping that the increased attendance the new Main Stand will turn the famous Anfield stadium into a fortress and help bring success back to the famous Merseyside club.
The Reds are holding two exclusive events for fans and residents of Anfield to get an exclusive first look inside the redeveloped Main Stand before it officially opens.
Over 15,000 supporters will be able to experience some of the premium facilities inside the new stand as part of Anfield's opening preparations.
The events have been organised as part of the safety certification process, which makes sure that the stadium is ready to host the first home game of the season against Leicester City on Saturday September 10.
Andrew Parkinson, Liverpool FC's Operations Director, said: "We're delighted to be able to give fans and local residents an opportunity to get a first look inside the Main Stand before we host our first game.
"An incredible amount of work has been undertaken to deliver this world-class facility for our fans and completing the safety certification process is an important part of those preparations."
If you would like to read more articles like this then please click here