Record breaking Meccano Bridge built by Queen's University students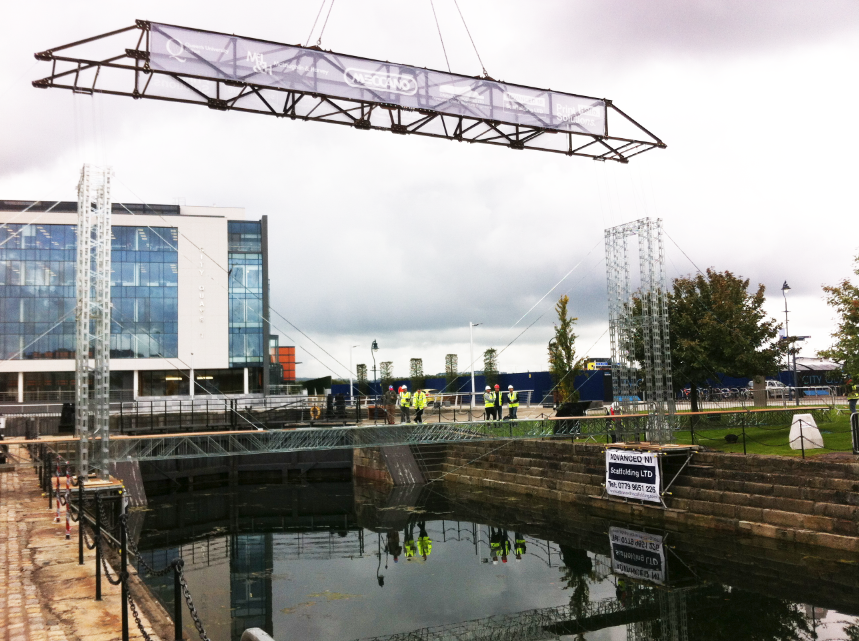 Civil Engineering contractor McLaughlin & Harvey Ltd has provided technical advisory services in the successful world record attempt by Queen's University, Belfast, Civil Engineering students.
The Belfast-based building and civil engineering contractor provided support to the third year students to build the 30m long Meccano Bridge, which was lowered into place by McLaughlin & Harvey across the Clarendon Dock in Belfast.
A ceremony was held on Saturday 19 September where the attempt to build the world's longest Meccano structure was verified by the Guinness Book of Records and was the culmination of the Big Bridge Build.
The year-long project not only involved academics and students, but also local school children as part of the university's outreach programme to encourage more children into STEM careers.
John McCarey, Chief Engineer at Civil Engineering contractor McLaughlin & Harvey Ltd said: "It has been exciting working closely with both the academics and students of Queen's university on this successful record attempt.
Through our experience we have been able to support these engineers of the future create something that people around the world will be able to see. To have built an entire structure just from Meccano required a great deal of technical expertise and we are pleased that our team has been part of that."
In addition to providing technical expertise to the students, McLaughlin & Harvey also gave access to resources and a warehouse in which the bridge components were assembled and tested.
They also provided on-site engineers to manage the bridge's relocation to the Clarendon dock and subsequent installation across the water.
The attempt was supported by Meccano and Smyths Toys, who were present at the Guinness Word Record verification day, encouraging children to create their own Meccano structures.
Danny McPolin, Senior Structures Lecturer at Queen's University, Belfast commented: "This event is not only an opportunity to celebrate the student and staff's incredible work over the past year, but also a chance to show local children more about the opportunities in STEM based careers and encourage them to consider a future studying civil engineering."
The bridge will remain at the docks until it is dismantled later this month.