Video: Timelapse of Mercedes-Benz stadium construction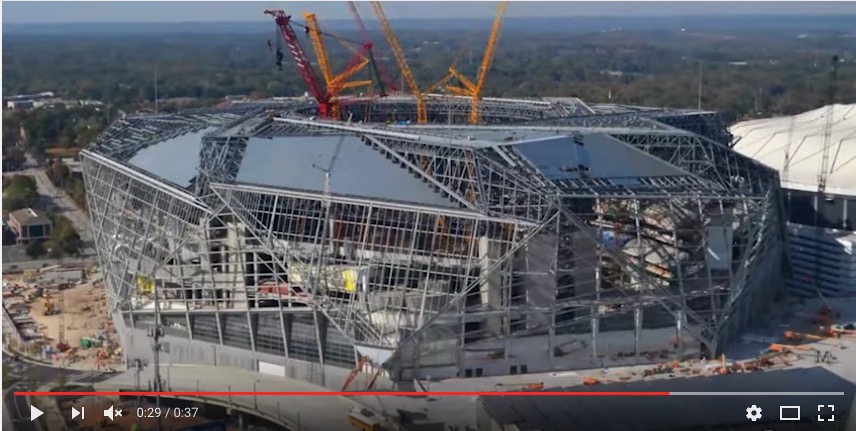 A new timelapse video has been released showing the progress of construction on Mercedes-Benz stadium in Atlanta, home to NFL's Atlanta Falcons and MLS team, Atlanta United FC.
Earlier in the year, UK Construction Online took an in-depth look at the construction of the state-of-the-art stadium that is due to complete next year replacing their home for the past 24 years, the Georgia Dome.
In addition to being home to the Falcons and Atlanta United, the venue will host other sports, conventions and entertainment events that would usually hosted at the Dome.
Earlier this month, members of the press and college sports representatives were given a tour of the construction site.
Mike Gomes, the Atlanta Falcons senior vice president of fan experience was on hand to describe key differences between their new home and the Georgia Dome.
"We're gonna have so much more natural light in the building, it will feel like a more comfortable place.
"The Dome, unfortunately – it's been a great home for us sometimes when you get in there and it's a 70-degree, beautiful day, it feels like you're in a prison."
Last week a preview event was held to showcase the new restaurants coming to the stadium.
AMB Sports & Entertainment President Rich McKay said: "We decided to take a different approach based on our philosophy of listen and respond by asking the most important people – the fans – what they want. We've responded and showcased the best of Atlanta's restaurants chosen by our fans."
The Mercedes-Benz stadium is to open in the summer of 2017.
If you would like to read more articles like this then please click here