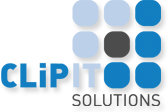 Accounting software specifically tailored for the UK construction industry
CLiP IT provides accounting software tailored to the UK construction industry's specific needs including:
Applications
Construction Industry Scheme (CIS)
Job Costings
Retentions
We work with our clients from initial consultation, to understand your needs, through to installation and training; and provide ongoing advice and support, through our highly regarded support line.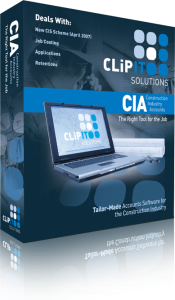 By specialising in the construction industry, CLiP IT Solutions have developed an accounts and job costing package that deals with the construction industry scheme (CIS) and fully satisfies your requirements. There is no need for bolt-on spreadsheets as the construction industry accounts (CIA) software is designed to satisfy all your needs.
Construction accounting is different from normal accounting, especially when multiple contracts come into play. A building project can produce a substantial amount of paperwork each month.
The UK construction industry uses many terms that are not used in other forms of accounting, such as retentions and stage payments. Using specialised construction software is the most efficient and accurate way to control all stages of the building project and keep costs in line with budgets.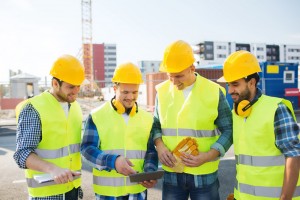 FULLY INTEGRATED CONSTRUCTION SOFTWARE
Because construction industry accounts (CIA) is a fully integrated construction software package, there is no need to enter information several times. CIA knows what you're entering and uses the information wherever it is relevant. For example, when entering a taxable subcontractor's invoice, the Accounts, CIS Ledger, VAT and Job Costing are all updated simultaneously.
SIMPLE TO SET UP AND EASY TO USE 
CIA is written as a comprehensive yet easy to use accounting software system. People comment during demonstrations how easy it is to follow, how everything makes sense and how comfortable they feel even at that early stage.
RESPONSIVE SUPPORT FROM PEOPLE WHO REALLY KNOW THE SOFTWARE AND HOW TO HELP 
The CLiP IT Solutions Support Team answer your calls as they come in, we do not have a call waiting system as calls are answered immediately. You talk directly to the people who will answer your queries. The Support Team are fully trained and are involved in the designing and testing of new software releases, they know our construction accounting software inside out.
95% of queries are solved on the first call, resulting in immediate continuation of work (vital for time sensitive problems such as payroll).
The Support Team fully explain procedures if necessary, we make sure you understand and don't use technical jargon.
CIA Software features include: 
CIS Software
Subcontractors Accounts
Purchase Ledger
Job Costing
Sales Ledger
Nominal Ledger
Payroll
Other Ledgers
Stage Payments
Compare CIA Versions
CIA Software Demo
CIA Reports Guide
Software for Builders
Implementation
Request a Demo