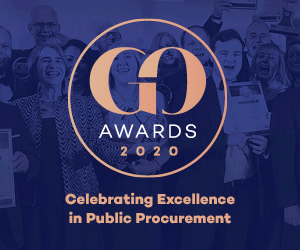 GO Awards Scotland: 29 October 2019, Marriott Hotel, Glasgow
GO Awards NI: 10 March 2020, The Titanic Hotel, Belfast
GO Awards Wales: 18 March 2020, Mercure Holland House, Cardiff
GO Awards National: 22 April 2020, Hilton Metropole, Birmingham
Products and Services
Sponsorship opportunities available, offering:
Extensive exposure of your organisation to key procurement decision makers and influencers
Positive association with the most prestigious awards brand in the UK public sector procurement arena
Opportunity to promote your company's capabilities alongside the best examples of procurement excellence in the industry
Long-term branding across a wealth of media platforms
On-site promotion and branding
Here are some of the key benefits of entering for public and private sector organisations.
Public Sector
Raise your organisation's profile and share your success story with your peers
Have your work recognised by leading figures from the public procurement world
Learn from other excellent examples of best practice delivered throughout the year
Celebrate the fantastic contribution public procurement can make to the country.
Meet fellow finalists and other procurement leaders at a  presentation ceremony.
Private Sector
Have your work and success with the public sector recognised
Test your procurement team or project against the best from across the country
Have your work reviewed by some of the leading figures in UK procurement
Enjoy a first-class networking opportunity with procurement leaders as you meet fellow finalists from local government, the NHS, universities and the private sector
Join us at one of the highlights of the year for procurement professionals.
Read more
The GO Awards celebrate excellence and innovation in all aspects of procurement, and are open to public, private and third sector organisations. The GO Awards family includes dedicated events in Northern Ireland, Wales and Scotland as well as the GO Awards National, bringing together winners from Northern Ireland, Wales and Scotland with new entries from across the UK.
Since 2003, The GO Awards have celebrated the best in public procurement from across the UK. The GO Awards have two aims:
Firstly, the Awards recognise the achievement and successes of procurement teams from all aspects of the public, private and third sectors. Awards celebrate achievement in infrastructure, social value, environmental impact, innovation and more.
Secondly, the GO Awards serve to raise the profile of procurement as a whole, showing the importance and benefits of procurement for government, business and the UK public.
The next GO Awards ceremonies will be the GO Awards Northern Ireland, on 10 March 2020, and the GO Awards Wales on 18 March. To see the full list of categories and to enter your organisation visit
www.goawards.co.uk

Entries are open for the GO Awards Northern Ireland until 17th January, and for the GO Awards Wales until 31st January.
Entries will open soon for the GO Awards National – stay tuned to www.goawards.co.uk for updates!
Events Organiser
BiP Solutions' HQ is in Glasgow but the company has global reach. For 35 years we have been part of public procurement's incredible success story: and since 2002 we have been measuring its evolution as a profession and public service through the GO Awards Programme. We've come a long way, but like the winners of our GO Awards, we strive to achieve so much more in future.
Read more