Sectors:
Water Authorities
Waste Management
Agricultural Biogas
Industrial Effluent
Products:
Glass Fused to Steel Tanks
Fusion Bonded Epoxy Tanks
Stainless Steel Bolted Tanks
Tank Roofs and Covers
Double Membrane Gas Holders
Access Steelwork
Sectors:
Water Authorities
KIRK products are fully compliant with all UK water industry standards and have been successfully supplied for many years via existing supply chain agreements and frameworks. Certain products also carry DWI and WRAS approval.
For more information contact a member of our team: +44 (0) 1282 677966 or email [email protected]
Waste Management
KIRK has been at the forefront of the AD and Biogas Industries in the UK. Supplying digesters, gas holders and various other tanks to many high profile projects.
KIRK was one of the founding members of ADBA – Anaerobic Digestion and Bioresources Association. ADBA is a trade association for the anaerobic digestion (AD) industry in the UK and companies and organisations working on novel technologies and processes that complement the anaerobic digestion process and products.
For more information contact a member of our team : +44 (0) 1282 677966 or email [email protected]
Agriculture
Circular tanks have been used in agricultural applications in excess of 50 years and KIRK has all the resources to provide a cost effective solution for any application. This could range from a simple slurry storage tank to a biogas application capable of generating the renewable energy to power the farm or to sell back into the grid. This technology is not only cost effective and environmentally friendly, but also generates a new flow of unseasonal income from farms and agricultural businesses.
For more information contact a member of our team : +44 (0) 1282 677966 or email [email protected]
Products:
Fusion Bonded Epoxy Coated Steel:
The ENVIROSTORE® Range of Fusion Bonded Epoxy Coated Steel Tanks has been developed in partnership with AkzoNobel and utilises a specially developed application of RESICOAT® R4-ES on the internal tank surface and INTERPON® external colour coat to achieve your required colour and UV stabilisation. Fusion bonded Epoxy Coatings offer a very durable and cost effective option of GFS technology and is becoming a popular choice for many application.
KIRK UK works closely with world-leading manufacturers to ensure that through continuous technology and process improvements, we always provide the finest epoxy coating available in the liquid storage industry.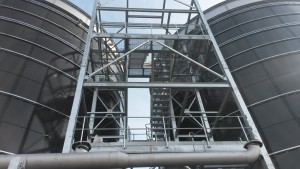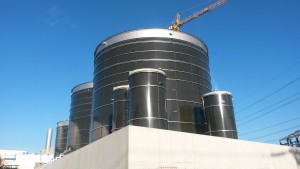 ULTRASTORE Stainless Steel
The ULTRASTORE® Range of Stainless Steel Bolted Tanks has been developed due to a growing customer requirement for a steel tank solution that is not dependant on coatings and gives a high level of corrosion resistance. Whilst there has been a preference for Stainless Steel Tanks in certain industries over years (food processing, distilleries, breweries etc) we have seen an increasing demand outside of those industries and in particular on Biogas schemes in very specific applications.
Applications such as Buffer Tanks, Pasteurisation Tanks and the Gas Zone in Primary Digesters are particularly suited to this solution which provides all the speed on site associated with a bolted tank with the highest levels of corrosion resistance.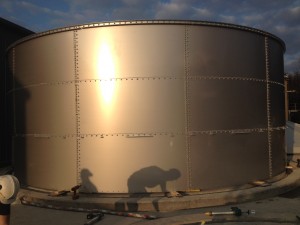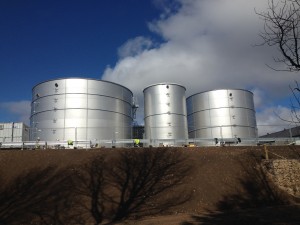 Glass Fused to Steel
Our GFS Tanks are produced in the UK in partnership with PERMASTORE and have been in use for decades, providing excellent service and design life with the minimum of maintenance.
The world leading TRIFUSION coating is the minimum standard supplied by KIRK in the UK market and is suitable for the majority of applications.
This is the only tank finish where two materials are fused together to achieve the best of both: the strength and flexibility of the steel combined with the corrosion resistance of the glass. The high temperature fusion of glass to steel fired at 850°C results in an inert, durable finish. Applied to both interior and exterior, the GFS technology is able to withstand the rigours of the construction site and provide many years of trouble free service in harsh environments.
The PERMASTORE GFS tank solution comes with DWI Approved coatings for drinking water applications and fully complies with the new industry quality standard ISO 28765:2008.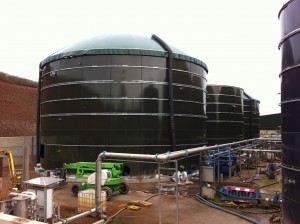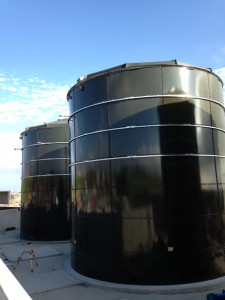 Tank Covers
We offer a full range of Tank Covers which we select dependant on the specific application required by the client.
Our GRP Conical or Beam & Infil Covers are produced in partnership with ARMFIBRE who are the leading GRP roof manufacturer in the UK; their experience and finished product quality is unrivalled in the industry.
GFS and FBE Roofs are available for Odour Control and Digestion applications where the lading requirements and corrosion resistance may exceed the limits of GRP.
Our Grade 316 Stainless Steel Roofs are utilised for very corrosive applications such as biogas or industrial effluents and are an excellent option when looking future proof your tank against a change of use or potential change of process or feedstock.
Gas Holders
KIRK works in partnership to deliver the industry-leading BIODOME Double Membrane Gas Holder for water, agricultural and municipal markets in the UK.
This state-of-the-art design utilises the highest strength membranes available in the global market, making it suitable for a wide range of working gas pressures, storage volumes and gas production rates and can accommodate the requirements of any sewerage, wastewater treatment, industrial effluent and biogas plant. It can be supplied as an independent free-standing unit or installed to provide biogas storage mounted to the top of a steel or concrete Anaerobic Digestion tank; these top mounted installations can be provided to fit an existing tank or as a replacement for failing floating roof systems. The high strength of the membrane, together with market-leading design and manufacturing facilities allows BIODOME to design and construct the Gas Holders in standard sizes up to 20,000m³, surpassing any other system available. It is also possible to extend the services to optional project ancillaries and steel structures manufactured in-house by our highly trained team to enhance the biogas facility.
Steel Fabrication
KIRK ENVIRONMENTAL designs and manufactures a wide range of fabricated steel products for use in civil engineering, wastewater, sewerage and biogas projects.
These include:
Pipework - Stainless and GMS pipework for any application.
Fabricated Tanks - Large welded steel tanks with DWI approved coatings.
Access Stairways - Internal or external to any specification.
Access Ladders - Stainless steel or GMS to suit any specification.
Walkways & Bridges - For PFTs, scrapers, mixers or any other equipment.
Handrails - Bespoke hand railing solutions for tanks, chambers and walkways.
Flooring - Various solutions for flooring over chambers, tanks and bridges.
Mezzanine Floors - Any loading conditions can be accommodated.
We work with TEKLA & SolidWorks 3D Modelling software to provide accurate modelling of any arrangement to suit site-specific conditions. Our many years' experience enables us to provide bespoke engineered solutions to meet any detailed technical specifications. We are able to work from site surveys or detailed drawings for fabrication trail build and site installations.