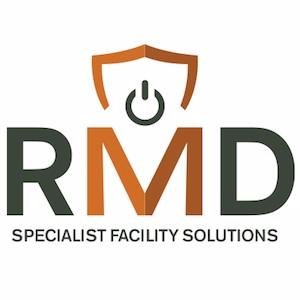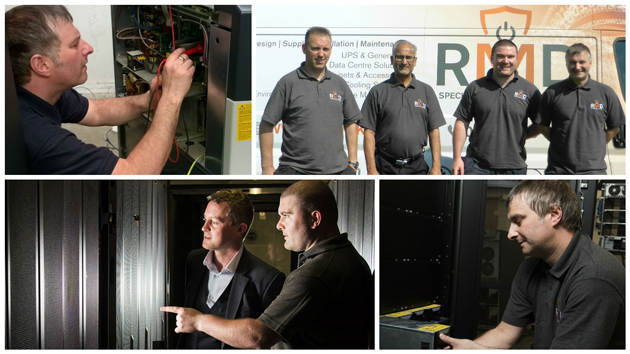 Engineering and design services – Our engineers and technical staff will review your requirements and design a system to meet the back-up power requirements for your location, whether they are for a single system or a multi-location nationwide company.
Emergency back-up and UPS systems – A full line of emergency power products and systems is available, including:
Batteries
Battery maintenance
DC power systems
Telecom power systems backup
Emergency lighting
Power conditioners
Power distribution units (PDU)
RMD works with the major manufacturers in the power protection industry to provide each customer with the highest-quality system available.
Uninterruptible Power Supply (UPS) - We have over two decades experience helping customers to choose and deploy the right UPS system. Efficiency is a top priority and Our RMD engineers will ensure that your system is neither too big nor too small for the job, is installed correctly with appropriate load balancing, and can scale up in the future if required.
We have strong relationships with all of the leading UPS manufacturers including Schneider Electric (APC and MGE), Riello UPS, Emerson Network Power and Eaton Corporation. We also have a large warehouse with many UPS units and parts in stock all year round.
RMD team of experienced engineers are fully qualified to design, install and maintain uninterruptible power supply systems for a range of applications. Our range of UPS services include preventative maintenance visits, emergency repairs, battery replacement and disposal, power audits, and site surveys.
UPS Replacement Batteries - At RMD, we can advise on when to replace batteries, how often to test batteries and how to dispose of used batteries correctly in accordance to the regulations. Our service includes:
Battery monitoring
Individual cell testing
Battery replacement service
Safe and compliant battery disposal and recycling process
We can incorporate ongoing UPS battery maintenance into client's contract to ensure that your batteries are tested and replaced correctly.
RMD is a SEPA-accredited waste carrier complying with all government legislation and we guarantee the highest standards of working practice with full safety equipment.
RMD work with all the major battery manufacturers including APC Schneider, Riello, Eaton, and MGE and can source replacement cells for most types of UPS.
Data Centre Management - RMD can service and maintain every aspect of your data centre infrastructure, from the building itself to power protection and even server racks. This includes UPS, generators, cooling systems, fire protection, security systems, electrical and mechanical systems, and the building fabric.
Our engineers are on call 24/7 and we offer a choice of service levels to suit every data centre. We can also provide your staff with full on-site training on all of our products and factory certified courses.
Data Centre Fire Protection - RMD offer a choice of gaseous, water mist and Firetrace suppression systems so you can choose the best fit for your data centre or server room.
We can also advise on the use of highly sensitive VESDA (very early smoke detection apparatus) systems. These laser-based detectors sample the air quality to provide the earliest possible warning of an impending fire hazard, enhancing the effectiveness of suppression systems.
Data Centre Security and Monitoring - Security and environmental monitoring systems make it easier to keep your data centre safe, secure and working efficiently at all times.
Protect and monitor your data centre infrastructure with:
Access control systems
Security cameras to prevent intrusion
Video entry
Rack cabinet access control
Two way audio monitoring
Particle sensors
Leak and water detection
Smoke detection
Temperature and humidity monitoring
SMS and email alerting
We recommend NetBotz by Schneider Electric, an active system monitoring solution designed to prevent against physical threats, environmental or human, that can cause disruption or downtime to IT infrastructure.
DCIM Software - At RMD, we recommend DCIM software to clients looking for complete and comprehensive visibility of their data centre infrastructure. Benefits of using a DCIM package include:
Cost savings on day to day running
Improved operations planning
Easier capacity and change management
Energy optimisation
Real time energy monitoring and PUE
Better thermal management to reduce over-cooling
Reduced downtime
System installation Services – RMD provides turnkey installation for all our systems.  Our technical staff will install your system and perform complete testing of the system to ensure that it is working properly.
Every one of our experienced electrical engineers is fully trained to install, commission and maintain all of the UPS products that we supply.
Fully accredited, we can be trusted to tackle any challenge professionally, efficiently and safely. We work around the clock so it's never a problem to schedule installation at the time that is most convenient for you and your team.
RMD engineers work with IT and facilities managers to select the optimum position for UPS equipment, bearing in mind that they generate heat and noise, and we can also look after the safe removal of any existing UPS systems and batteries.
Maintenance – We offer comprehensive, on-site maintenance of your back-up power systems.  This includes maintenance, removal and recycling for batteries, repair services, monitoring and testing of systems. In addition, we provide exclusive maintenance support for many manufacturers for existing systems. RMD will provide maintenance for your system, whether we installed it or not.
UPS Maintenance - At RMD, we have a team of highly qualified engineers who are on-hand to provide support and maintain your UPS system. Our engineers are fully trained and accredited to maintain, repair and replace units produced by all major UPS brands including: Schneider Electric / APC, Eaton, Riello and Emerson Network Power.
Our clients can choose from a range of UPS maintenance contracts, from chargeable to fully comprehensive cover. Contracts can be tailored to your specific business needs, with response times starting from 4 hours. We also offer one off visits to help guarantee the availability of your UPS system.
Data centre maintenance cover packages
4-hour response cover
Our fully comprehensive option is recommended for those data centres that cannot afford any downtime. 4-hour cover guarantees the fastest possible response time from our engineers and is our most popular package
Next day any day
Our second cover option guarantees that our trained engineers will be sent out to you within 24 hours of your call. Next day cover includes weekends and public holidays.
Next business day
In the event of a systems failure, our engineers will be on site by the next working day.
Our warehouse stocks a wide range of units and spare parts compatible with the leading UPS brands. We can replace faulty parts quickly with no middlemen. If a fault is flagged to us prior to a call out, we can often replace parts in one visit.
UPS Site Surveys - RMD will assess your organisational priorities and capacity for future growth as well as environmental factors including cooling, space, location of uninterruptable power supply (UPS), and the work required to install a new system.
Site surveys come with no commitment to purchase from RMD but if you do decide to proceed our experienced team will be on hand and happy to help with all your requirements and specification.
Training - It is important to us at RMD that our customers get the most out of our systems. That is why thorough training on the basic operation of all equipment is essential.
Following installation, our engineers can provide your staff with full on-site training of all of our products. Understanding how equipment works is key to ensuring that it is utilised safely, efficiently and effectively.
We also offer a range of factory certified courses and in-house training at our dedicated facility in Alloa.
PMVs (Preventative Maintenance Visits) – RMD UPS engineers will carry out a preventative maintenance visit which can be included in one of our service contracts or done as a one off service.
Our engineering and technical staff works with each client to review the specific requirements of the installation and to design a back-up power system that will ensure that critical systems will continue to operate in the event of a power loss.
We can provide back-up power units and UPS systems for all insurance and financial equipment, including:
Point-of-use computers
Computer and server systems and equipment rooms
Communications systems
Emergency lighting systems for offices, data centres and other facilities
Disaster Recovery
Cooling Systems and Data Centre Cooling - RMD will help you to choose cheaper, more efficient and innovative ways to cool your data centre without impacting performance. We can supply, install and maintain datacentre cooling systems for both new and existing facilities.
Depending on the size of your data centre or server room, there are a number of options available. RMD offer temperature control by both chilled water and direct expansion (DX) systems and recommend taking advantage of free cooling wherever possible.
Server Racks - We can help you make the most of your space with our range of server racks, cabinets and accessories. We offer racks from a range of manufacturers including Schneider Electric (APC), Rittal and Emerson.
Effective cooling is critical in today's high density server environment and our racks can help cut energy bills while you keep your data centre cool.
RMD offer the following racks:
Standard, large and half size server racks
Speciality enclosures
Open frame racks
We also offer wide networking racks to accommodate excess ports and cabling.
RMD also sell a range of accessories to complement our racks including:
Cable management
Airflow management
Data distribution cable
Mounting hardware
Rack components
LCD monitors and KVM switches
Standby Generators - RMD Ltd supply generators individually or as part of a complete turnkey backup package comprising ups, switchgear, cooling and diesel generators.
Emergency Lighting - RMD can supply, install and maintain emergency lighting systems for your premises. We also offer fire detection and fire suppression systems.