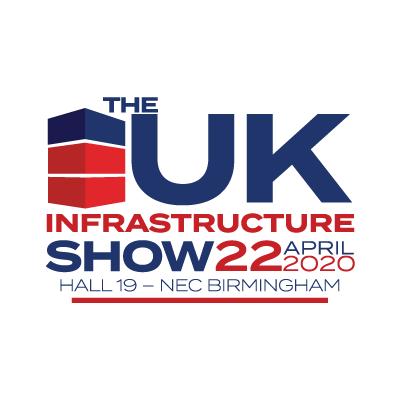 22 April 2020 – NEC, Birmingham
Join the infrastructure community at the UK Infrastructure Show 2020. Register today for FREE!


Products and Services
Why Attend?
The UK Infrastructure Show 2020 is the leading infrastructure and supply chain event, and brings together some of the major projects, planners, buyers and industry bodies from across this £600Bn marketplace.
UK Infrastructure Show 2020 is designed to give suppliers looking for opportunities across the infrastructure sector direct access to some of the leading infrastructure projects or programmes currently underway or in the pipeline.
For planners and buyers this event gives you the opportunity to meet with new suppliers, learn more about the future of infrastructure in the UK, and network with peers and colleagues.
Who should attend?
Suppliers looking to work in the supply chain or improve their opportunities
Prime/Tier 1 contractors looking to make supply chain connections
Infrastructure project buyers
Representatives from any major infrastructure project currently under way or planned for the future
CompeteFor users
Key features of this event include:
Read more
The UK's Leading Infrastructure & Supply Event.
The Government is investing record sums in infrastructure and plans to maintain spending at 1-1.2% of GDP between 2020 and 2050.
As outlined within the National Infrastructure and Construction Pipeline, over £600Bn of investment into almost 700 infrastructure projects across the UK is planned over the next ten years. This represents a significant opportunity for those businesses looking for supply chain opportunities across all sectors from transport to social infrastructure to energy & utilities.
Co-located with Procurex National 2020, and officially supported by CompeteFor and many of the major ongoing and future infrastructure projects and leading industry organisations, the UK Infrastructure Show 2020 will provide participants with a unique opportunity to engage, connect and collaborate with a vast array of key projects, buyers, planners, decision makers and influencers representing the major areas of infrastructure, all in one day, under one roof.
We are delighted to be working with IPA, HS2, Sellafield Ltd, RICS, Crown Commercial Services, Glenigan  on UK Infrastructure Show 2020.
Read more