17% growth ensures Nationwide Platforms remains world's largest IPAF provider
Nationwide Platforms has once again retained its position as the world's largest IPAF provider after training 14,896 delegates in 2016. With IPAF registrations up 17% from 2015, it achieved the highest number of registrations ever recorded by the International Powered Access Federation (IPAF).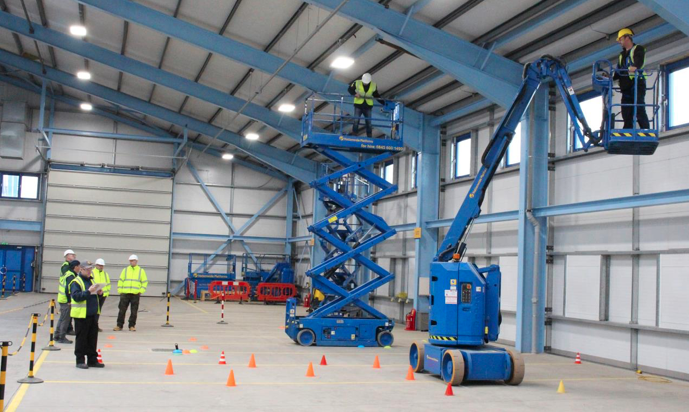 The company offers the full range of IPAF operator, management and PAL+ training courses either at its customers' premises or from 26 depots strategically located throughout the UK. Particular achievements in 2016 included providing more than 11,000 3a/b Operator courses, 1,085 Harness courses, 350 PAL+ courses and 775 MEWPs for Managers courses – 540 courses more than the second highest provider.
Representing approximately 10% of all IPAF training provided worldwide last year, Nationwide Platforms also trained significantly more delegates on a range of PASMA, IOSH, CITB, CPCS and Health & Safety courses, making it one of the world's largest providers of working at height training.
In order to support its continual success, Nationwide Platforms increased its training capability with the addition of 30 new courses to its portfolio, the introduction of a state of the art training centre at its new depot in Glasgow, Scotland, and the recruitment of a further two full-time trainers. It also up-skilled a number of its trainers to carry out additional courses and, as a result, more than doubled the number of IOSH, CITB and Health and Safety courses delivered in 2015.
The company also launched a new training guide, which includes comprehensive details of its courses, to accompany its updated App, which now provides real-time updates on training course availability, locations and customer offers.
Peter Douglas, Nationwide Platforms UK Operations Director, said: "Our training division has achieved record year on year growth for many years now. As well as achieving record IPAF and PASMA numbers, we also achieved a significant uptake in CITB and plant machinery training in 2016. After firmly establishing ourselves as respected partners in working at height training we are now proving our capacity to cover all training requirements."
"This not only reflects the growing importance of training but also the quality and expertise of our trainers. With more than 300 years combined training experience, our trainers are able to provide in-depth support and guidance to delegates. They are not only great ambassadors for IPAF training but also all aspects of safety training and are a credit to the industry."
Tim Whiteman, Chief Executive Officer of IPAF, commented: "It's been heartening to note that 2016 was another strong year in terms of demand for IPAF-accredited training, and our training centres have risen magnificently to meet this demand – our global network has grown by more than 3% across the year. It is the exceptional hard work and commitment of our trainers that continue to make IPAF's voluntary training programme such a success. We anticipate that demand for our training courses will only increase in 2017, and we will rely on our larger members such as Nationwide Platforms to continue meeting that demand so effectively."
With more than 10,500 access platforms in its fleet and with unrivalled experience working on major projects and tackling site challenges, Nationwide Platforms is able to provide tailored courses to cater for specific products, sites and applications. This includes extending the one day IPAF operator training courses to provide more in-depth training or to include additional training and big kit familiarisation.