Cargill project to renew exhausts of industrial fryers
Project: Fryer Exhaust Gas CO2 Protection
Client: Cargill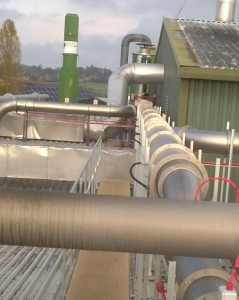 When Cargill of Hereford undertook a major project to renew and greatly simplify the exhaust ducting to their bank of industrial fryers, there was a requirement to look again at Fire Protection for the newly installed ductwork.
The exhaust gases from the fryers are of course heavy with cooking oil and other combustibles, and present a massive fire risk – which if it caught fire would destroy the new ductwork system and the exhaust scrubber that it attaches to, not to mention the amount of downtime and loss of production that the factory would suffer.
Cargill therefore commissioned ASAP Fire and Bryland Fire to design, supply, install and commission a new Carbon Dioxide system that upon signal from the duct mounted heat probes, would flood the ductwork with CO2 gas, stopping any fire that may propagate in there. Cargill further
instructed that works could only be done at a weekend when the fryers were not working. The system that was installed has a connected reserve, so that protection would continue even after a discharge by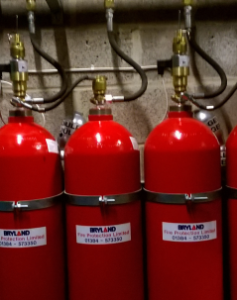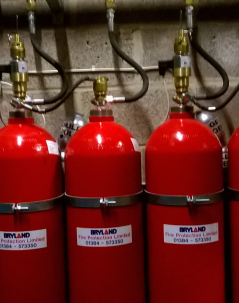 changing over the cylinders on duty – one of the customer's pre-requisites.
Simon Diliberto, involved from the project inception commented:
"This project was an order that we accepted knowing that it was a challenging one. Many people consider Carbon Dioxide to be old technology, however for this type of more industrial application it was absolutely ideal. Both ASAP Fire and Cargill were delighted with the project delivery process, which led to an absolutely first rate Fire Protection system – protecting both the lives at Cargill and their business continuity".
With nearly 50 years experience, Bryland Fire Protection are based in Dudley in the West Midlands and are specialists in all things Fire related from Alarms and Extinguishers through to Fire Suppression, Servicing and Training. They can be reached on 01384 573350 or at sales@brylandfire.co.uk