Landmark Staffordshire Alliance works by Three Shires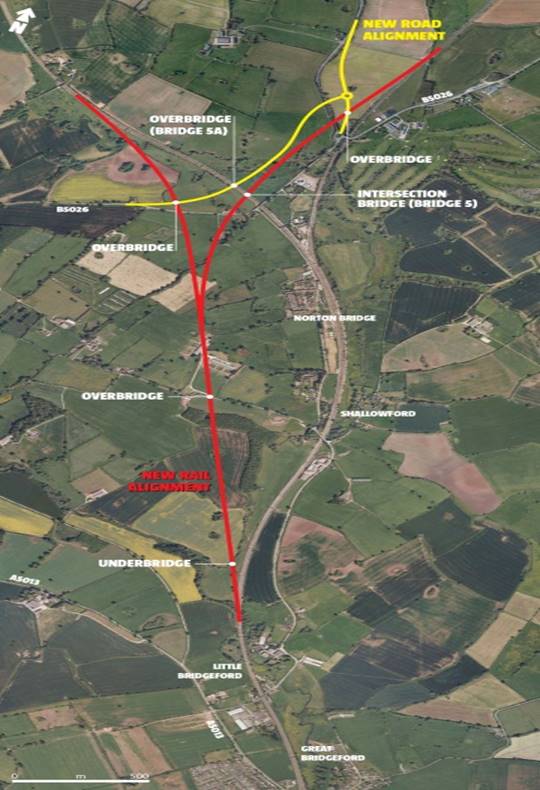 Three Shires Ltd were appointed to work alongside four of the UK's leading specialists on the landmark Staffordshire Alliance project.
The project, which is being carried out by an alliance formed by Atkins Rail, Laing O'Rouke, Network Rail and Volker Rail, is valued at £250M and will result in the improvement of Staffordshire Rail Infrastructure. This includes improvements to existing rail lines which will allow for new high speed links.
Three Shires were brought on board by the Alliance at the initial tender stage to carry out an Ecological survey and have worked through to the first part of the roll out at Norton Bridge. This involved a four part package from the company which included the reinstallation of over 5000m of Herpetosure newt and slow worm fencing which had been uninstalled at Chiltern Railways.
The four part package as delivered by Three Shires Ltd involved:
BPA Pipeline Diversion
Three Shires assisted the diversion of the BPA pipeline by carrying out the soft felling of trees and removal of waste, hedgerow removal, hedge gap screening utilising a fine wind and shade knitted HDPE mesh and the installation of 6000m of Herpetosure Newt Fencing and pitfall traps.
Habitat Creation
The ecological mitigation and translocation requirements on the site resulted in Three Shires creating a landscaped hibernacula which included the introduction of six new ponds, 5 new hibernacula for newt translocation, landscaping, earthworks, seeding and tree, scrub and flower planting, the location setting of log benches, decking and walkways and the installation of French drains. 
Translocation of species
Under European Protected Species Licence there were 9 chamber badger setts installed along with 2063m of hedge netting, 2 otter holts created, 8 barn owl boxes and 15 bat boxes mounted onto trees and the removal of hedges and mulch on the site.
Site Stock Compound
The first on site material compound for the construction work was built on site by Three Shires. This involved the delivery of a 385m Green Paladin fence at 1.8m high, two 10m Green Paladin vehicular double access gates, concrete base and hard standing ground laying, 486m of two strand barbed wire stock proof fencing and the construction of the site office.
The high quality of service, skill and project management that Three Shires deliver on its projects has resulted in the contract of over £800K worth of work for the Staffordshire Alliance. This has been made possible, in part, due to the flexibility of the Herpetosure fencing and its re-usability. The company has allowed the Alliance to increase work access three times through the removal and reinstallation of fencing once the indigenous species had been cleared.