Bryland Fire Protection achieve world's first in fire suppression systems
Established for over 50 years, Midlands based Bryland Fire Protection are a leading provider of fire detection and alarm systems, advising, installing and maintaining systems and equipment for clients throughout the UK. Earlier this month in conjunction with one of their key suppliers, Jactone, they became the first company to achieve Approved Installer status for Jactone PAFSS® LPCB certified LPS1666 Fire Suppression Systems.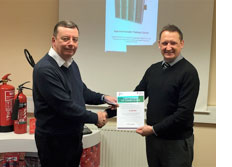 PAFSS is manufactured under the ISO 9001 quality system and was the first equipment in the world to be certified to a new LPCB Standard, LPS1666, with Jactone the first company to obtain this third party approval, in recognition of the performance of their Direct Pneumatic Tube based suppression systems. Moreover, Jactone's system is the only system currently certified with design allowance for ''Enclosed or Open Vents' and 'Forced & Natural Airflow'.
Graham Turner, Managing Director of Bryland Fire Protection explained, 'We refuse to compromise on quality, insisting that our customer service, technical and design engineers are the best trained and knowledgeable in the industry. We source, collaborate and only supply premium quality manufactured products to ensure longevity and value for their clients.' He went on 'So when Jactone introduced PAFSS, we were delighted that they asked Bryland Fire Protection to be the first team to receive the training and qualify to represent and install this innovative fire suppression solution.'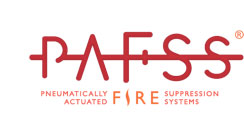 The PAFSS detection tube is designed to melt and burst at a consistent temperature in a real fire situation. The subsequent loss of pressure in the tubing opens the cylinder valve to release the sophisticated extinguishing agent, 3M™Novec™ 1230 at the heart of the fire. Curtailing the fire at source, means that the fire is extinguished swiftly to minimise the cost of damage, limiting the potential spread and reducing downtime associated with any remedial repair works.
LPS 1666 certified systems are ideal for a variety of environments including electrical enclosures, wind turbines and CNC machinery. Other systems within the PAFSS family can be used for fire protection of laboratory fume cupboards, commercial kitchens and many other applications. The many features include; simple to install and cost effective to maintain, operated by a pneumatic signal, and uses only quality-engineered material.
As an authorized installer of PAFSS, Bryland Fire Protection are partnering with innovative, pioneering suppliers to continue to offer the most advanced and effective fire suppression solutions to both their industrial and commercial clients.
The creation of the new LPS1666 standard is significant for the fire industry as this now means that consultants, specifiers and project managers are able to confidently add PAFSS to their portfolio of recognised solutions when advising their clients on the optimum fire protection solution to suit their needs.
This recent product introduction follows further developments within Bryland Fire Protection. A wide range of training and e-learning courses are now available to book online which include Health and Safety Essentials, First Aid at Work, Food Hygiene and Driver Safety.
More information about the products and services available at Bryland Fire Protection, along with recent project completions and case studies can be viewed on their website www.brylandfire.com or call 01384 573 350 to speak to one of their trained advisers.