Offsite solutions increase efficiencies onsite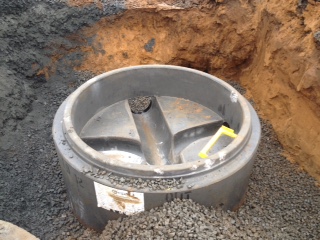 CPM's sealed manhole system has been used extensively by K&L Groundworks on their site in Felton, Northumberland for a housing development for Bellway Homes.
So successful has the installation of CPM's Perfect Manhole system been that the site were installing a complete manhole within 35 minutes, which is not only great news for safer construction on site, as there was no requirement to form a concrete surround but there was a reduction of open excavations increasing the Health and Safety on site.
Using CPM's Perfect Manhole enabled K&L Groundworks to install the manhole faster as the modular concrete solution eliminates the need for wet trades, resulting in rapid construction compared to conventional methods.
Scott Leather, Managing Director for K&L Groundworks said: "Using CPM's Perfect Manhole system allowed our site team to gain valuable time on site, as well as benefitting from the advantages the system offers. It only took 35 minutes to excavate and install the 3m deep manhole including back fill and compaction. K&L Groundworks believes that moving with offsite innovations such as the Perfect system gives us the competitive edge on site".
Ordered via Burdens at North Shields, the CPM watertight system has a combination of a thicker wall and rubber joints which require no need concrete surround unless specifically required and are available in varying depths for efficient construction, either pre-benched or with a plain bottom and with or without inlets/outlets.
Mark Meekings, Trading Manager for CPM believes the Perfect Manhole gives the customer choice stating: "each manhole is designed for that customer, we offer a range of pre-fit options that benefit both the customer and site personnel."
For more information on CPM's Perfect Manhole solution please visit http://www.cpm-group.com/products/drainage/sealed-manholes/the-perfect-manholes/