DVLA to launch digital driving licence on phone by next year

The DVLA are working on a smartphone version of the driving licence – a digital driving licence people! We have electric cars, so why not?
The Driver and Vehicle Licensing Agency (DVLA) are in the early stages of developing a "quick, easy and secure" service for motorists. A test version of the system is set to launch in September but will only be available to developers for testing. Plans to roll out the new system to motorists are scheduled for April next year. The plans were revealed by the DVLA's chief executive Oliver Morley last may via Twitter.
Chief Executive of the DVLA, Oliver Morley tweeted a picture of a prototype using Apple's Wallet app on the iPhone to show a digital driving licence.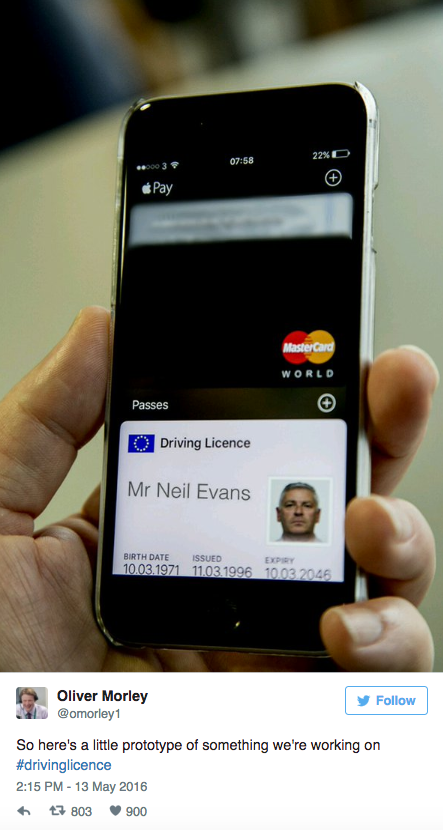 Morley says this will act as an "add-on" to the plastic card as opposed to replacing the traditional plastic photo-card. The Wallet App already has the ability to store boarding passes, credit, debit, gift and discount cards. It would be convenient for many if a digital driving licence was made available as those who wanted to access it digitally would be able to.
Payment and other information is encrypted with an end-to-end connection, authorisation is done via the user's fingerprint or a passcode.
Ben Wood, CCS Insight analyst said:
"Security has taken a significant step forward to support digital payments on phones, so the framework is in place for other secure applications, such as a digital driving licence."

"There are not many people in the UK that do not carry a smartphone with them every day, so it is a logical next step."
Technology analyst at the business consultant Lewis, Chris Green also shared his thoughts in regards to the digital driving licence and security surrounding it:
"digital wallets were a massively underrated and under-exploited resource".

"People are getting more and more used to the technology because of e-ticketing," he said.
"People are far more comfortable with the concept of keeping key information on their smartphone."
A US security company that provides driver's licences has already been trialling a digital licence since August last year. This allows users to change their details such as their address, contact numbers as well as other information, making it easier for users to be able to update their licence as and when they wish.
Whereas in Australia, the New South Wales government have already announced the introduction of digital driving licences. As it stands the UK digital driving licence will be an addition to what we already have, so we would still have a card, but in Australia the digital licence will eliminate the need for a physical card.