Cannock Chase
KIRK UK, part of KIRK GROUP, successfully constructed the UK's largest Anaerobic Digestion Plant in Staffordshire, West Midlands.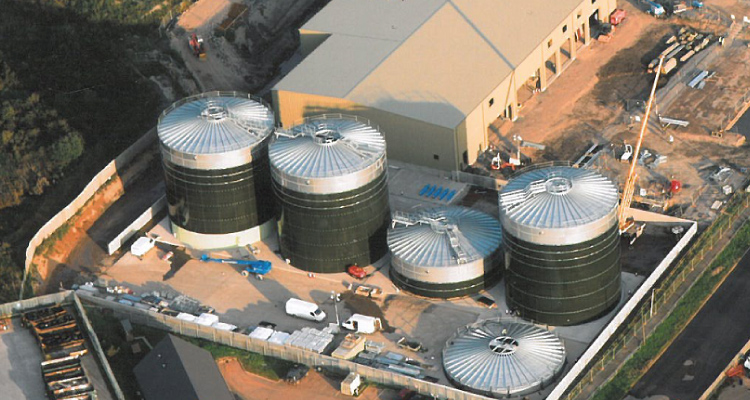 KIRK UK designed, supplied and installed five 4,800m² Glass-Fused-To-Steel Digestion Tanks completed with Stainless Steel Roofs. Our GFS Tanks are manufactured by world leaders in this tank technology, ensuring the highest quality standards and range of coating is always available to clients. Benefits of Glass-Fused-To-Steel Tanks include: high levels of corrosion resistance, proven design life, low maintenance, no need for re-coating or painting, quick installation times and easy to relocate if necessary.
The AD Plant is capable of processing up to 120,000 tonnes of food waste every year. It is currently producing enough energy to power up to 6,000 homes, diverting to the National Grid. The food waste treated at the plant is mainly from commercial and industrial from the likes of Sainsbury's and Bakkavor. Through the AD process, the plant also produces a soil improver which is used as a type of compost.
The plant is the flagship facility for a series of 'super' AD facilities that Biffa is hoping to develop and KIRK is looking forward to contribute their expertise in the process.
Early involvement in the project meant that KIRK was able to work closely with BIFFA, reviewing the project requirements and providing recommendations on the most suitable combination of products, materials and configuration to maximise the asset life and operational performance of the project, whilst providing the most advantageous commercial solution.