KIRK UK push boundaries at Dryholme Farm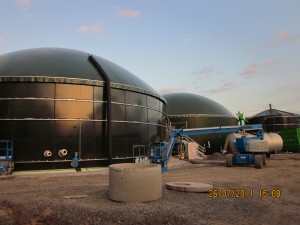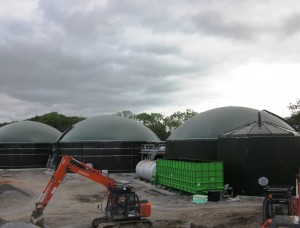 When asked to act as Main Contractor for Farmgen's ground-breaking Anaerobic Digestion Plant at Dryholme Farm in Siloth, Cumbria, KIRK UK pushed the boundaries by taking on the role of CDM Co-ordinator as well.
Operating for over 20 years, the farm's main business is the production of animal and poultry feeds. When looking at its future, Farmgen realised that some sort of diversification was necessary to ensure its continued success. The Anaerobic Digestion process fit the bill perfectly, by being able to utilise the waste animal and poultry feeds into a source of renewable energy.
The key infrastructure of the plant consists of three 3,000 tone Glass-Fused-to -Steel AD Tanks complete with the industry leading BIODOME® Double Membrane Roofs. The biogas that os produced as part of the AD process is captured in the BIODOME® Roofs before it is cleaned and sent to the CHP Unit. This then works as the engine of the plant, where electricity is produced for exporting to the National Grid.
The grass and maize silage produced on the farm and in the surrounding area creates some 1.2MW of electricity, enough to power more than 2,200 homes and creating a significnat boost to Cumbria's rural economy.
The contract was carried out under a partnership approach between KIRK UK and Farmgen, with KIRK UK carrying out all engineering, construction and project management, and Farmgen providing the critical Process Design Technology for the AD facility. This made for a very efficient process and allowed changes and improvements to be made throughout the contract with minimum impact to cost and programme.
For more information call: 01282 677 966