KIRK UK work with e5 Consortium on AMP5 upgrade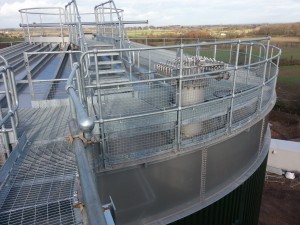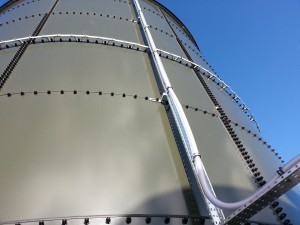 As part of its Severn Trent's Anaerobic Digestion Upgrade and Improvement programme in AMP5, e5 Consortium chose KIRK UK as one of its key delivery partners.
The Rushmoor Growth Project, an upgrade programme that will provide additional capacity to meet a predicted increase of 53%, comprises three sites.
Two Gas Phase Digesters, complete with stainless steel roofs, and one Pre-Digestion Tank with a conical GRP roof, were designed, supplied and constructed by KIRK. The three tanks were manufactured from Epoxy Coated Steel, a long-lasting tank coating innovation with maximum corrosion and weather resistance, perfect for the project requirements.
The project also included the design and construction of access steelwork, with a multi flight staircase leading to an overhead bridge spanning the entire diameter of both gas phase digesters and access to the centre of the roof is possible via a 900mmm wide walkway and a four metre diameter central access platform.
KIRK has worked closely with e5 since the beginning of the programme, clearly identifying the design criteria, scope and key interfaces to ensure a clearly defined and specified scope could effectively be delivered on time and on budget, whilst meeting the deign life and performance expectations.
For more information on KIRK's capabilities, please call: 01282 677 966