KIRK UK upgrades Meary Veg Waste water Treatment Works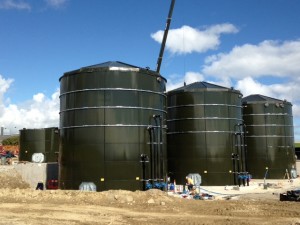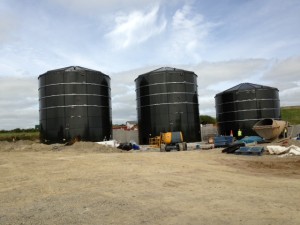 Works have recently been completed by KIRK Environmental, part of the KIRK Group, at Meary Veg Waste water Treatment Works, Santon, Isle of Man.
United Utilities embarked on the upgrade programme to deal with growing amounts of waste which needed to be treated. On average, the Isle of Man produces 15,500cu m of sewerage waste daily, 67% of which is treated at the Meary Veg site. KIRK were employed to design, supply and install four extra Glass-Fused-to-Steel storage tanks, two sludge storage tanks, one thickened sludge storage tank and one septic tank, all topped with Glass-Fused-to-Steel roofs.
Glass-Fused-to-Steel is a unique tank finish which provides the strength and flexibility of steel combined with the corrosion resistance of glass.
The plant is now capable of storing the extra sludge and septic waste, which will start to be imported into the improved facility. The extra tanks will provide a means of both storing and gravity thickening the imported sludge before it is transferred to a separate sludge treatment process. At the end of the process, the plant will produce thermally dried sludge which will then be disposed of at a nearby Energy from Waste plant.