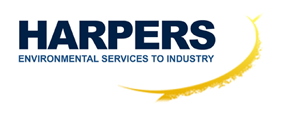 Bitumen Storage
Overview
A large bitumen producer asked Harpers Environmental Ltd to provide a safe solution to a tough cleaning problem in one of their large storage tanks. They asked Harpers to define and implement a compliant method for removing an accumulated overhead layer of carbonised bitumen. These deposits were posing a hazard for their personnel and were preventing the routine cleaning of the tank. There were 20 bitumen tanks of similar size on this site, each holding different grades of bitumen. The tanks represented an on-going issue for the company. The tanks were all approximately 38' by 25' holding between 150-250 tons of bitumen each, all the tanks were heated to between 190 – 220 Deg. C.
Solution
Harpers technicians believed and ultimately demonstrated that the problem could be resolved using a combination of a high pressure jetting unit, offering a quick change converter facility, allowing variable pressures from 1000 bar to 3000 bar to be used, thus ensuring that there was minimal interruption to the process. We also recommended, and used, a remote manipulator to direct the cleaning head to all areas inside the tank from a position of safety. We have since applied the same successful S.O.P. to additional tanks on the same site.
Client comment
The customer stated: "Harpers Environmental have been able to reach the coke deposits safely via the top of the tank, using safety apparatus and some very impressive Kevlar protective 'turtle suits'. These suits were needed to protect the personnel from any stray water jets during the cleaning procedure. The operators surgically removed the coke from the top in manageable chunks that were lowered to the bottom of the tank for later clean-up. By successfully completing the work within the promised deadline, Harpers were able to restore the integrity of the tank and sensors and ensure we kept the tank clean on schedule. They also made it possible for the regular cleaning team to work inside the tank safely".