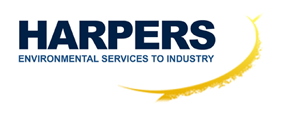 Dewatering of 3 gas holders
Overview
Harpers Environmental ltd were contracted by a major construction and demolition company to carry out the role of dewatering and desludging subcontractor on the demolition works at a former gas holder station. Harpers Environmental ltd. are preferred contractors to National Grid Property Holdings Ltd for specialist groundwater remediation projects.
Harpers Environmental scope of works
The subcontract package was to firstly dewater 3 redundant gas holders. The water was to be pumped out using our bespoke water treatment system and disposed of to the sewer. Once access had been gained to the holder the sludge had to be removed to allow the demolition programme to progress. The prime aim of the sludge treatment was to reduce volumes to allow waste disposal at a much lower cost.
Restrictions/Considerations
The water treatment plant was designed to be able to treat massive volumes of water which were specified within our temporary discharge to sewer consent. The treatment plant consisted of oil and sediment separator tanks, air stripping tank, sand and activated carbon filters, motor starters and inline methane detectors. These sensors are calibrated for the discharge consent and ensured real time confidence of the air stripping stage of the treatment plant which was designed to remove the methane from the dissolved phase.
Solution
Upon completing dewatering of the below ground gas holder the roof was removed. Our safety team carried out a full risk assessment to assess the confined space issues and a safe method was drawn up for access to the holder. This was accomplished by specialist scaffold staircase tied into the remaining structure. Secondary emergency access was provided by a pole and grip scaffold tower.
Harpers Environmental offer services to remove and dispose of difficult and hazardous wastes from current and former production facilities. These include specialist dewatering and sludge removal services.
Our company ranks as one of the most highly skilled and dependable services providers specialising in site rehabilitation, waste disposal and service platform