Bradec Construction Ltd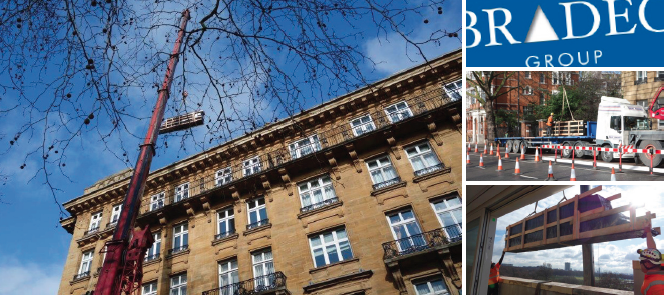 We are often asked whether ConQuest is suitable for pricing refurbishment work, which is what the estimators at Bradec Construction Ltd in Andover spend a lot of their time doing. The company will work anywhere in the United Kingdom and will undertake any kind of construction work, but Bradec has established a particular reputation as a specialist in high end refurbishment work, often in demanding or difficult locations, such as central London. All of their work is priced using the ConQuest estimating system and recent projects are as varied as a large hotel refurbishment, a restaurant refurbishment in Piccadilly, and the complete redecoration of Tedworth House for the charity Help for Heroes.
A good example of the quality and complexity of Bradec's work is the recent alteration and improvement work to a luxury apartment in West London, including Giorgio Armani/Roca bathroom fittings, and Dinesen Oak flooring from Denmark. The oak planks had to be ordered nine months in advance to ensure delivery and were supplied in 30 x 500 x 5500 lengths which were too long to be taken up by the building's internal hoist, and had to be craned up to the sixth floor. This could only be done by closing a bus lane in the busy Bayswater Road, not once but three times during the course of the contract. Each time, this required careful negotiation between Bradec's Managing Director Steve Bradbury, Transport for London, and Westminster City Council. Bradec are clearly problem solvers.
Steve, who originally trained as a QS, has been using the ConQuest estimating system since it was first introduced over twenty years ago,
"We do a lot of taking off", he told us, "and we find your On Screen Measurement System very useful. If the phone rings, when you go back, you can remember where you were because the measured work has automatically been coloured in on the electronic drawing. It's so quick. Brilliant for measuring weird and wonderful shapes in groundworks such as driveways. It's simple to use and fantastic the way that you can measure an area and it automatically measures the perimeters, or you measure the length of a partition and it can give you the vertical area at the same time".
Bradec Construction has recently been using the revolutionary ConQuest Online Enquiry system which is Cloud based and drastically reduces the time it takes to get enquiries out to subcontractors.
"If we have a BQ from an outside consultant we can very quickly import it into ConQuest, and whereas a big enquiry might have taken us a week before, we can now mark up the Bill and get the enquiries out on the same day", said Steve. "When the quotes come back we feed them into the ConQuest Comparison system, which makes the selection process very quick, especially if there are a lot of Bill items.
All of this information is available to our surveyors, post contract, and we use the ConQuest Valuation system for monthly valuations and to produce Cost Value Reconciliations comparing resource information imported from our accounts system".
It is very rewarding for us to see customers like Bradec Construction completely adopting our system, and we look forward to a continuing relationship with them long into the future.