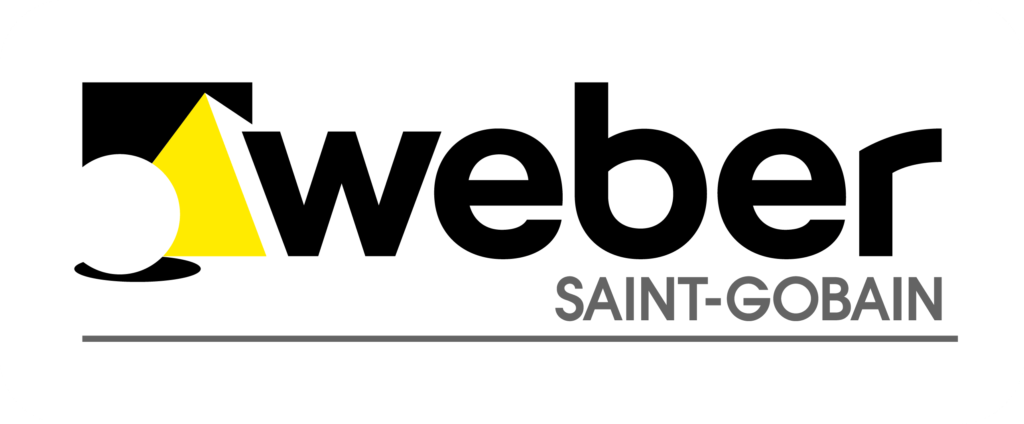 The best flooring options for pets
When building a new home or renovating an existing property, choosing the right flooring is essential and it is even more important for those with pets.
 

Saint-Gobain Weber has put together a pet-friendly flooring guide.

Due to furry companions undoubtedly causing wear and tear over time through scratches, stains and dirt, the following are a few things to consider when choosing a pet-friendly flooring type…
Is it scratch/damage resistant?
Is it easy to clean?
Does it have enough grip?
Is it comfortable enough for pets to lay on?
Laminate
Laminate flooring makes it easier for the pet owner to clean up any messes made by the pet. It's water resistant, durable and because of its high gloss finish scratches are usually less noticeable. Although the slippery surface can result in pets being a little less stable on their feet, selecting a flooring option that has a textured or embossed finish will reduce slipping. Alternatively, placing a rug on the floor will provide extra traction.
Vinyl
Compared to most other flooring materials, vinyl is an extremely affordable option for most pet owners. Both easy-to-clean and scratch and stain-resistant, it can be installed almost anywhere in the home. It is available in a wide variety of designs, promotes low levels of allergens and is a durable option that doesn't compromise on style.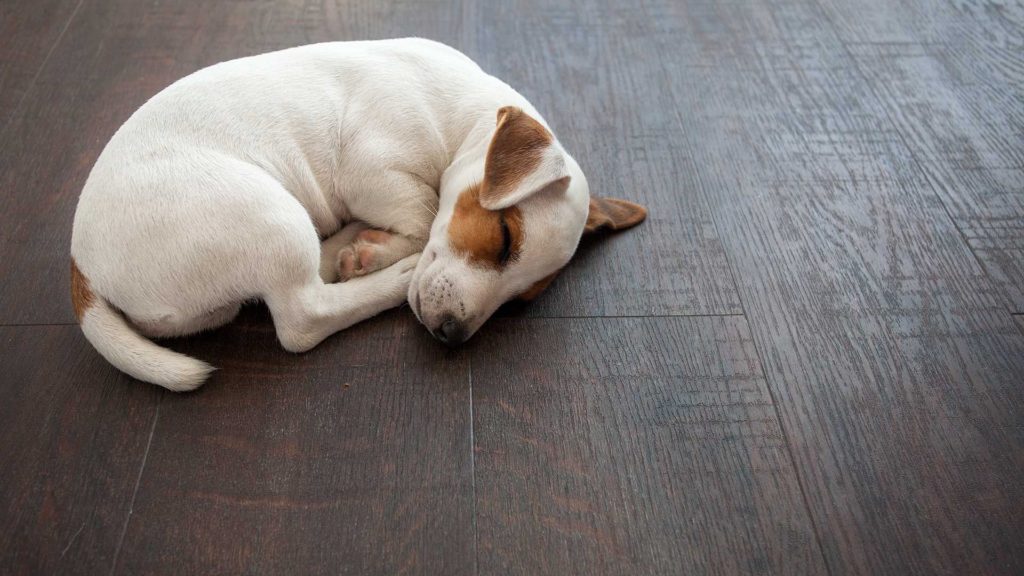 Hardwood
A go-to choice for a lot of pet owners, hardwood flooring is a clean option with a classic look that, for the most part, is scratch resistant – and to make the floor even more scratch and stain-resistant choose an option coated in urethane. While it's not always the best flooring option due to it being more prone to water damage and staining – salt crystals in pet urine can cause odour and stains to appear over time – so to keep the hardwood style looking beautiful, the best pet-friendly materials include: mahogany, walnut, bamboo, hickory, sycamore, oak, cherry and maple.
Stone tile
Tile is a good option for pet owners. It's extremely durable, scratch-resistant and easy to clean – some softer, more porous stones (like marble) might require a little more upkeep. Probably the only downside of tile flooring, it is cold and hard, so therefore does little to provide much in the way of comfort. Pet owners should consider underfloor heating and using rugs across the floor space for underfoot comfort.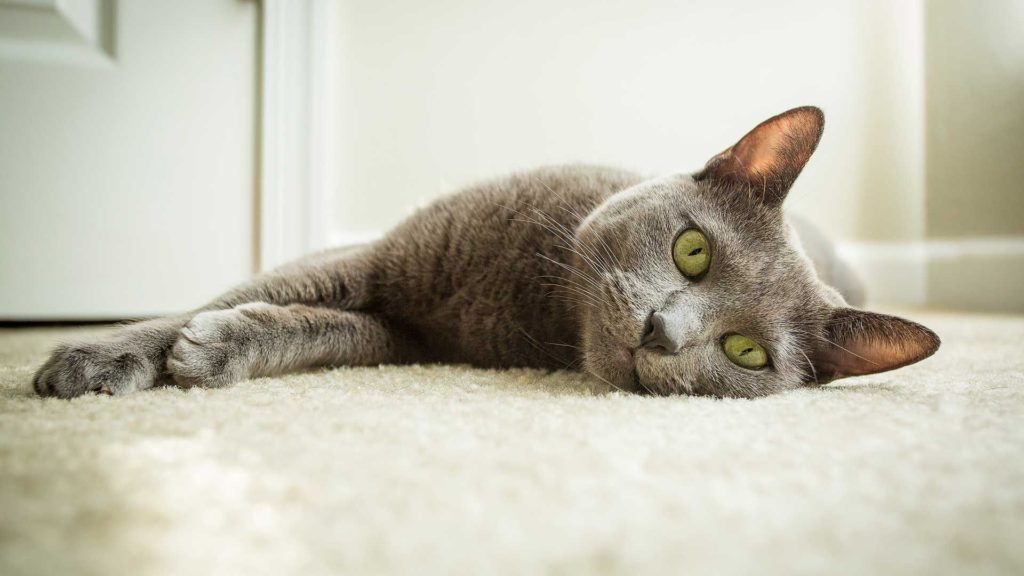 Carpet
Carpeting offers a comfortable landing spot for the homeowner and their pets. Ideal for low-traffic areas of the home, such as bedrooms, carpets come in a variety of colours and styles and it is easy to replace carpet tiles. However, a big downside with carpet is the difficulty in cleaning it, which is something to consider when owning a pet. Prone to staining and strong odours, pet owners can use hydrogen peroxide-based cleaners on some carpets, but when it comes to pet hairs these are hard to get rid of using conventional vacuum cleaners.
Bamboo
When talking about wooden flooring options, bamboo is probably the best. It's also one of the most popular for pet-friendly homes, especially those with dogs. With an ability to withstand high levels of traffic, its natural hardness makes it more stain and scratch-resistant than traditional 
hardwood floors. It's also eco-friendly.
Cork
Just like bamboo, cork flooring is eco-friendly and a naturally antimicrobial material that helps reduce the growth of mould and other allergens. It can discolour overtime from sunlight exposure and it's not suitable in rooms where heavy furniture will be placed, but it requires little in the way of maintenance and is both warm and flexible making it comfortable to walk on. It is also sound absorbing, therefore quiet underfoot.
Visit the Saint-Gobain Weber website for more information on its flooring systems.