Infrastructure before expansion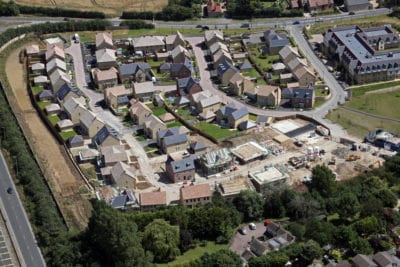 As the UK housing crisis deepens, ensuring the country's ageing infrastructure is fit-for-purpose before building new homes is essential to maximise connectivity between communities.
Lifting the Housing Revenue Account cap could be the starting gun local authorities need to turn back the clock on years of undersupply. As discussed in our recent report 'The Future of Social Homes for Rent," It will require an innovation in house building and sound planning, but with the right resources, we could see the delivery of homes for social rent return to the halcyon days of the 1970s. Government targets to deliver 300,000 new homes a year is admirable, but if this is to happen it is essential, we have the right infrastructure in place to support growth.
As Homes England's strategic plan sets out, ambitions can often be frustrated by planning challenges and insufficient infrastructure. Our Essential Infrastructure report revealed that construction output on infrastructure projects has increased by just £70 per person in real teams since 1997. This fails to take into consideration the additional demand a growing population is placing on our existing infrastructure and the requirement for new infrastructure.
The importance of infrastructure
Roads and railways are the lifeblood of a functioning and efficient society, in 2017, 327.1bn miles were travelled on British roads and in the financial year 2017-18, 2.13bn passengers used the UK's railways. Yet construction output on the road network has dropped by £2 per person over the last 20 years.
More homes ultimately puts stress on our ageing infrastructure and regional road networks are paramount to the success of new communities, helping to keep regions well connected and economically viable. Philip Hammond, Chancellor of the Exchequer, announced in the Autumn 2018 Budget a £28.8bn investment in major routes across England and earmarked an additional £420m for councils to fix potholes and carry out repairs. It was a step in the right direction and recognition of the importance of the transport network for the country's productivity.
In the mind of consumers, digital infrastructure is as vital as a functioning road network. People looking to buy homes ask about broadband speeds in the same breath as schools and a doctor's surgery. A lack of suitable infrastructure and amenities has seen over 2,000 villages across England categorised as unsustainable, restricting the ability for new affordable and private housing to be delivered.
If the government is committed to laying the groundwork to facilitate the number of new homes the country needs, we must focus on providing infrastructure to ensure the homes we are building are in the right place for the right people.
The way forward
Decision-making on infrastructure must become more streamlined to ensure we are delivering essential infrastructure now. One way of doing this is by driving home the devolution agenda. By providing greater fiscal freedom, local authorities will have the ability to deliver the improvements and new infrastructure they need. The pace of devolution must be maintained and steps taken to encourage cross-boundary working to understand and deliver common ambitions and aspirations. Investment in infrastructure could be provided proportionate to the strength of shared ambitions.
Nationally, the 'politicisation' of infrastructure decision has long hindered progression. There is a lack of cross-party and intra-party consensus on infrastructure priorities, which makes meeting challenges across the entire country and ensuring value for money more difficult. Ministers, often through no fault of their own, are in post for a short period of time. Ministers would be better placed to make long-term decisions if they are in a department for years rather than months, which would enable them to understand the complexities of specific policy and develop important relationships with relevant stakeholders.
One of the key recommendations from our recent Essential Infrastructure report urges the government to widen the National Infrastructure Commission's (NIC) remit to prevent the 'politicisation' of infrastructure decisions. The NIC already holds a central role in independently assessing infrastructure and advising the government. However, statutory independence to propel projects forward would help to reduce political pressure on the government of the day to postpone important decisions and could speed up project delivery. The cross-party support that the NIC can develop through a national strategy would effectively end the 'stop and start' process, where a change in political fortunes means infrastructure projects are abandoned or delayed.
The government plans to invest billions of pounds in infrastructure in the next few years, and this investment needs to take place where it supports the creation of new communities and connects existing ones. New homes are essential, but before expansion we need infrastructure.
Written by Mark Robinson, Scape Group chief executive
Article first appeared on Scape group website
Adrian Hill from Scape Group will be speaking in the Key Note arena at The UK Infrastructure Show on 30th April. 
Register for your delegate place now: UK Infrastructure Show 2019. 
If you would like to read more articles like this then please click here.