Leading a stadium build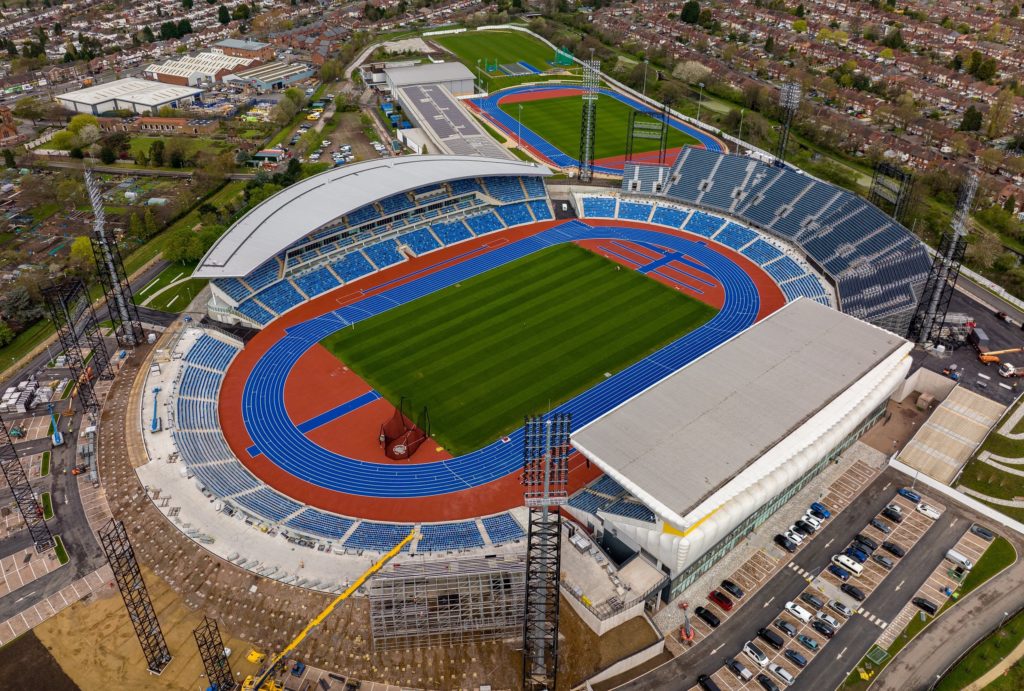 Martin Keys is Operations Director at McLaughlin & Harvey. Having graduated from Ulster University with a degree in construction and engineering management, Martin joined the business as a site manager in 2002.
Martin recently led a team of 20 during the redevelopment of Birmingham's Alexander Stadium – a £72M project which saw the stadium transformed into a world class sporting facility.
Martin brought considerable and varied expertise to the redevelopment of Alexander Stadium, having worked on a wide range of projects during his 20+ year career, from Primark shop fit outs to warehouses and industrial estates.
Work on the project commenced in April 2020, with contracts set to be signed the week the UK went into a national lockdown. Unsurprisingly, extra time was required, and the original proposal had to be reworked to account for the restrictions in place at the time, as well as extra health and safety measures to ensure the project was delivered safely and as per Government guidance.
However, the pandemic wasn't the only obstacle Martin and the team on the Alexander Stadium project faced. There was also a worldwide shipping crisis, complications caused by Brexit, and significant resource issues which Martin and his team had to contend with.
Martin said: "The successful management of the project was largely down to the 'one team' approach that we took, making sure everyone was on the same page the whole way through and ensuring we were all working towards a shared goal. We approached everything as a team rather than as individuals and this was key to the project's success."
The technical elements of the stadium, particularly the more intricate aspects of the building due to its unique design, were completely new for Martin.
He continued: "Building a stadium is more technically challenging than working on other types of projects. It's not just one square block. There are very intricate details and everything has to be well coordinated and perfectly scheduled to make sure it's coming together at the right time.
"The weather also played a key factor in ensuring key dates were met. This project was largely programmed around the laying of the track for example.
"The location of the stadium – right in the middle of a big park in the city centre – also meant there was a great deal of interest from members of the public which you don't necessarily find with other developments."
Social value was a key focus during the project and a dedicated employee was hired to coordinate the team's efforts in this specific area.
Martin explained: "Various team members and subcontractors offered a lot of their time to different projects within the community such as volunteering to build shelters.
"We set up a resource bank where we donated any excess materials for members of the public to come and collect.
"Over £70,000 in grants was given to local businesses. We asked people to apply for funding then held a day where we assessed them and picked the successful applicants before presenting the winners.
"Making the project a fantastic place to work was a key target. This was a huge project in the middle of a booming city with lots of other construction jobs going on such as HS2, student apartments, and the athletes' village. We made every effort to compete with other contractors to make people want to come and work with us.
"To do this, we ensured the site was always well-presented and the hoardings looked impressive, we created balconies and picnic benches for people to make the most of their breaks, and generally made every effort to ensure it was a positive environment where everyone felt appreciated and like they really wanted to be there.
"We constantly made an effort to forge a good relationship with members of the local community as well and held regular open days where anyone who was interested in the project could come along and find out more about what we were doing.
"I am very proud of the stadium. It was fantastic to see our hard work come to fruition. Getting to see the stadium I had built on television was amazing. I feel privileged to have been involved in this project and it was great to be able to tell my two young children that I was on the team who helped bring this venue to life."
If you would like to read more stories like this, then please click here