Sustainable surfacing for roads and runways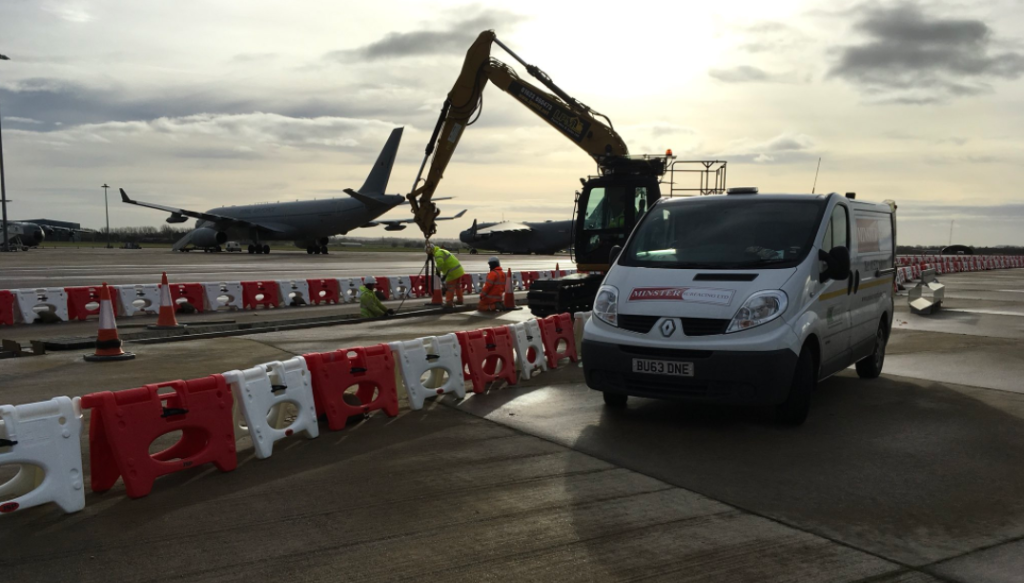 Sustainable answers are everywhere within the construction industry, and the sector can provide a great contribution to reducing carbon emissions and hitting waste targets. In this article we speak with Bruce Spencer-Knott, Director, Minster Surfacing, about sustainability in road surfacing.
(Minster are one of the first companies in the UK to be recycling waste material to resurface roads using Foambase, which has been used in Canada, Australia and South America.)
Bruce: I'm the first to admit that road surfacing isn't the first sector that comes to mind when you think of sustainable construction. Sticky, tar-coated aggregate, diesel pumping HGVs and large, filthy machines seem to be a staple of the industry, but we've proved that it doesn't have to be that way.
I've been working on the roads since I was 18 years old. Back then, it was a hard and thankless task with little regard for health and safety, carbon footprints or sustainability. Inspired by my dad's forward-thinking attitude and having moved from the roadside trenches to running a company with around 40 employees, I've been doing my bit to bring the trade into the 21st century.
Today, we're a major supplier to the Ministry of Defence, local authorities, major developers and local suppliers in the Lincolnshire area. We work on multimillion-pound infrastructure projects and we repair runways and refueling yards at RAF stations around the country. While we work on a wide range of projects, we're always looking for new ways to improve our service and the way we work to make it cleaner, safer and more affordable and our biggest innovation so far has been in recycling.
Working with sister company, Alliance Recycling, Minster Surfacing is one of the only companies in the UK using technology that enables us to recycle and reuse the material we remove from old carriageways to create new road surfaces and binder course products. Using Foambase technology, we're able to recycle 50% of the material we remove from roads, including material containing hazardous coal tar which costs councils £100 per tonne to send to landfill. Even better, the production of Foambase produces 32% less CO2 than traditional asphalt.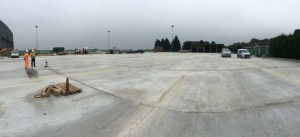 As developers and public bodies become more conscious of their social responsibility and the need to reduce their carbon footprint, more and more clients are seeking out our green techniques which also cut their costs. Last year, we recycled 75% of the 8,000sq m of concrete we replaced at RAF Waddington's refuelling yard and we're currently using recycled product to create the newly designed entrance to RAF Brize Norton where we also have a 24/7 runway patch repair service.
Our mobile batching plants enable us to recycle and reuse the material we remove on site and we're planning to increase our Foambase production further with the addition of a new plant at our headquarters in future, but there are other ways in which we're cutting waste.
We've recently been issuing our delivery drivers with QR codes which can be scanned by the team when they arrive on site. This allows us to use GPS to accurately log where each delivery of material is used, helping us with quality control. Because every surface is tested before we move on, if there are any issues with quality, we can quickly and easily identify the areas which need relaying without needing to remove any surfaces which are up to standard. This reduces waste and disruption and, again, we can recycle the material we remove.
Another innovation is our recent purchase of a new widener, which will enable us to repair and strengthen road edges faster, greener, safer and with less disruption that other methods. We'll be the first company in the country to use the machine, which is already improving roads in Eastern Europe, the United Arab Emirates and the USA.
There seems to be a preoccupation within the road surfacing sector to continue working as we have done for decades, with backbreaking, dirty work being all too common throughout the industry. Road surfacing will never be glamorous, but it can be made cleaner, safer and more efficient by embracing technology and looking for new techniques which improve upon the old.
If you would like to read more articles like this then please click here.