BAM Appointed to Aintree Hospital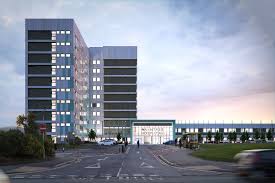 Aintree University Hospital NHS Foundation Trust has appointed BAM Construction to transform its main entrance and tower block.
The £15 million renovation will rejuvenate the outside of the hospital, and therefore will extend the service life of the 10-storey town block by at least 20 years, as the tower houses the majority of the hospital's wards.
BAM Construction has been appointed by the trust following a competitive process under the Government's ProCure 22 capital framework for health in England. The scheme is designated as 'essential' and is proceeding with a wide range of adaptions in order to meet social distancing requirements and safe operating protocols as set out by the UK Government in order to protect those who are involved in the redevelopment.
The scheme's design will also tie in with the adjacent £35 million Urgent Care and Trauma Centre, which has also been create by BAM and was officially opened by the Duke of Cambridge in 2017. The work also looks to improve staff and patient experience within the building. It will have improved insulation, solar reflection, and natural ventilation to help manage inside temperatures all year round, meaning cold winters will feel warmer and hot summers will feel cooler.
Rob Bailey, Construction Manager for the scheme, said: "We have a very strong understanding with the Trust, and the effective collaboration between us is a critical ingredient in the success we expect to achieve here. Our experience in healthcare schemes across the UK is exceptional, and the way we work means that the Trust's people will feel involved and informed about what is happening around them. That's very important to us."
BAM has commenced phase one of works and they are set to finish next summer, with phase two finishing around 12 months later, with design by Day Architectural.
Funding for the work comes via regional financial allocations, via money allocated to local Clinical Commissioning Groups by NHS England. BAM is currently at work on a number of other NHS healthcare facilities in around a dozen further UK locations. It recently delivered the new NHS Nightingale Yorkshire and the Humber. Its work in Liverpool goes back to 1933.
If you would like to read more like this, then please click here