D2N2 Provide £4m for Station Masterplan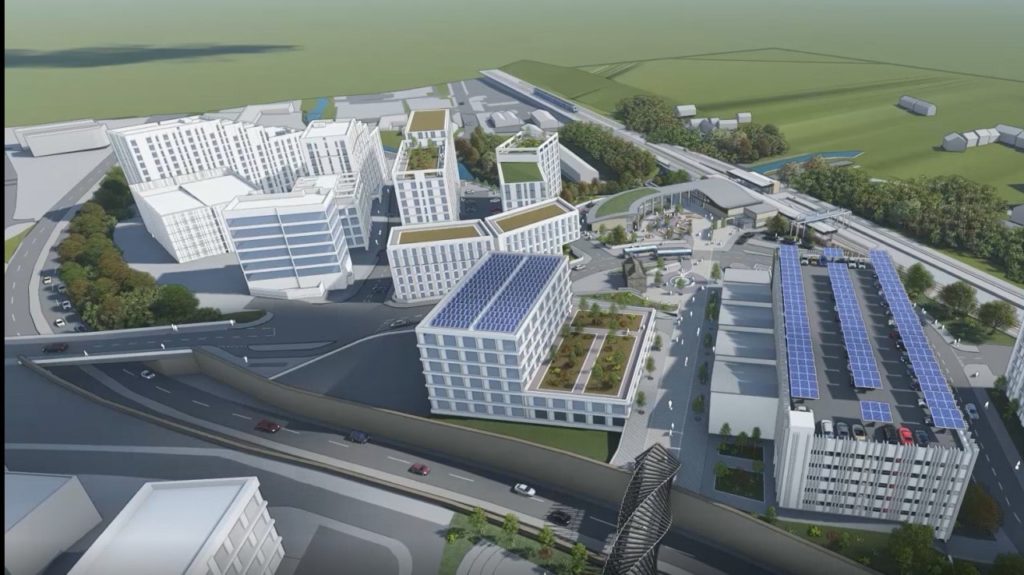 D2N2, the Local Enterprise Partnership for Derby and Derbyshire, Nottingham and Nottinghamshire, is to provide almost £4 million in funding to aid the Chesterfield Station masterplan. D2N2 has approved a grant of £3.8 million toward the construction of the Hollis Lane Link Road in Chesterfield.
The new link road will extend from the junction of Hollis Land and Spa Land, and, will terminate at the southern extent of the Chesterfield Station car park, providing direct access to the railway station from the South.
The project, which is worth £7.42 million, will form part of the masterplan, and will bring forward wholescale regeneration and supporting sustainable economic growth in the centre of the town. The new regeneration will include new commercial developments, along with significantly improved connectivity.
D2N2 is funding the project through its Local Growth Fund allocation, an investment programme to support projects which aim to benefit the regional economy. The funding for the Hollis Lane Link Road follows on from similar awards for infrastructure projects which benefit Chesterfield residents, including the A61 Corridor, HS2-related developments, and the Chesterfield Higher Level Skills Centre, which are worth a combined £10.57 million.
Elizabeth Feagan, D2N2 Chair, said: "Our investment into the construction of the Hollis Lane Link Road will be another important milestone for Chesterfield's regeneration ambitions, bringing significant growth and investment opportunities whilst creating more homes, jobs, and learning places.
"D2N2 is pleased to support investment in our town centres to stimulate economic growth which will be central to supporting the region's recovery from the impact of Covid-19."
Cllr Simon Spencer, Derbyshire County Council's Cabinet Member for Highways, Transport and Infrastructure, said: "The Hollis Lane Link is a great example of the ambitious work now being undertaken by the Joint Growth Board.
"It is a key part of the Chesterfield Masterplan which will bring a range of economic benefits to the town and surrounding area."
Cllr Tricia Gilby, Leader of Chesterfield Borough Council, said: "The Hollis Lane Link road adds value to the work we are already doing on the emerging station masterplan, which is a significant project for Chesterfield and northern Derbyshire's economy.
"We are in the process of finalising the station masterplan and will be undertaking public consultation later this year.
"The station masterplan will define our aspirations for the economic future of the area and we continue to work closely with partner agencies to maximise this huge opportunity for Chesterfield Borough and beyond."
If you would like to read more articles like this, then please click here.