Wates Appointed to Council Scheme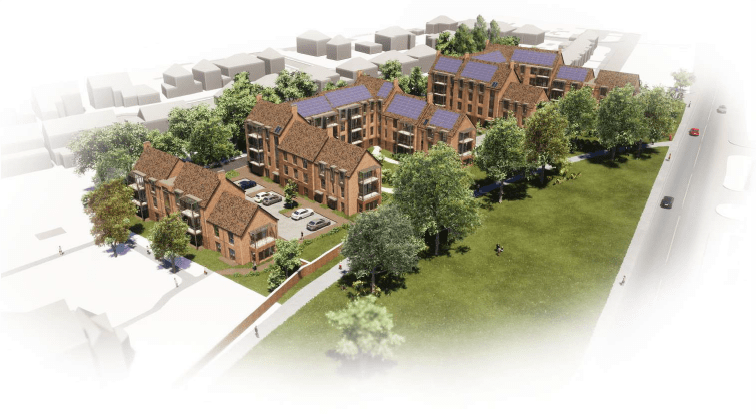 Wates Residential has been appointed by the London Borough of Hounslow Council to deliver 61 high quality homes to meet the growing demand for affordable housing in the borough.
The national contractor has been selected to deliver the new scheme as part of the local authority's 5,000 Pledge to secure an additional 5,000 high quality and affordable new homes for local people by 2022.
Planning permission was secured in March this year, and Wates Residential is due to start work on the site in December 2020. This project includes the demolition of former sheltered accommodation which is no longer fit for purpose, and the construction of 61 new homes for social rent across three new blocks. Eight of these new homes will be wheelchair accessible.
Several initiatives have also been incorporated to help residents lead more environmentally friendly lives. These new homes will be all electric, which will remove the reliance on gas for heating and cooking, as well as offering an opportunity to use cleaner energy sources. It will also support London Borough of Hounslow's drive to ensure that new homes in the borough are working towards net zero carbon.
The proposed plans incorporate green spaces for the local community, and will include a children's play area, communal gardens and rain gardens, whilst maintaining the existing tree canopy.
As part of the project, Wates Residential and the London Borough of Hounslow have made a joint pledge to work together to increase education, skills and training opportunities, as well as boosting Hounslow's local economy by employing local businesses. This will include a minimum of £2.6 million to be invested in the local community through social value activity.
Helen Bunch, Managing Director of Wates Residential, said: "We are looking forward to delivering these much-needed social rented homes for local people and building on our excellent relationship with London Borough of Hounslow.
"Local communities are at the heart of every project we work on so we are really pleased that our development will also leave a positive lasting legacy through our joint commitment to invest in creating training and employment opportunities."
Andrew Smith, Assistant Director of Housing Development & Supply at the London Borough of Hounslow, commented:  "We are delighted to be commencing work at Burlington Close, Bedfont with Wates Residential to deliver a further 61 new family homes towards our Housing Pledge of securing 5,000 new affordable homes by 2022.
"The impact of the COVID-19 pandemic is particularly felt in Hounslow with reduced activity at Heathrow Airport leading to increased demand for positive assistance to the local community. We are delighted with Wates' progress, despite the various lockdown and COVID restrictions, to get this scheme to site and in particular their commitment to local labour, training and enterprise".
If you would like to read more like this, then please click here