Smart technology and the changing face of home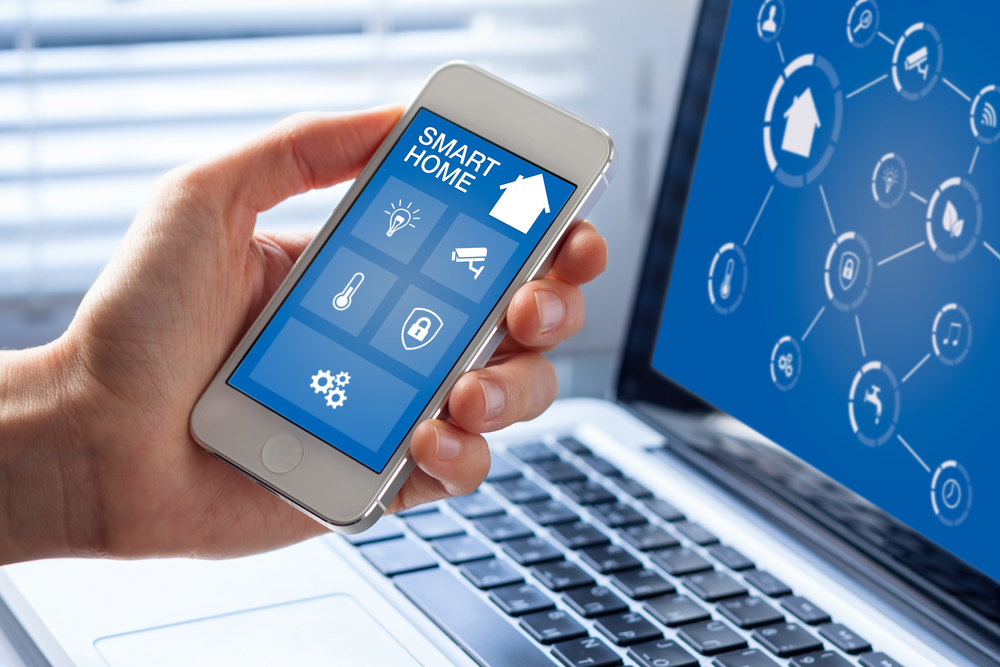 It is hard to believe that only twenty years ago most people did not own a mobile phone. And that the world wide web was alien to the majority, with early internet browsers having to contend with a painfully slow dial-up connection, which prevented others in the house from using the phone. It seems funny now, doesn't it?
Fast forward two decades and almost everyone owns, not just a mobile phone, but a smart phone. And has practically instantaneous internet connection, thanks to super-fast broadband and Wi-Fi connectivity.
This remarkable surge in smart technology has completely changed how we all live our day-to-day lives. From a smart garage door and smoke detector to a smart light bulb and slow cooker, it seems the Internet of Things really is coming to life.
We increasingly demand the efficiency and flexibility the connection of smart devices bring — we can turn our home's heating down while sitting in a restaurant, monitor home security cameras while out shopping and check that we did in fact turn our iron off when at work.
It is no surprise then that smart home technology is increasingly in demand.
The changing face of home
With the recent release of Amazon Echo and the potential release of Google Home this year, we have the ability to manage our daily lives with complete convenience. If you are not one of the millions of people around the world who already have an Echo installed in their home, it is a bit like having a personal assistant called Alexa around the house — except Alexa is squished inside a Wi-Fi speaker.
But more than merely a talking tannoy, this clever connected speaker and smart home hub will play music, answer your questions and control most of your other smart home devices. This connection of smart devices, through a hub such as the Echo, creates a complete home ecosystem.
Smart home, smart choice
As more of us are becoming tech-savvy and realising the endless opportunities across all areas of our lives and our living spaces, increasing amounts of smart technology is being put into homes at the design and build stage.
Many people designing and building their own homes are now installing home automation systems. This completely automated system has the ability to connect devices, appliances, and other things through the internet. And is controlled by a convenient touch panel.
If you opt to create a high-tech home, you can expect it to cost a pretty penny but the advantages are vast. And there is little doubt that this is the home of the future.
Automated home technology really is smart. It has the ability to learn your preferences and therefore can drastically reduce energy wastage in your home. Super smart thermostats can sense when your home is occupied, learn and self-programme. So your home becomes extremely energy efficient.
According to Nest, the US home automation company brought by Google, their customers have saved more than 1.4bn kilowatt-hours since 2011. That's enough energy to power 135,000 homes in the US for an entire year.
Smarter vehicle, smarter business
Whilst opting to build a fully automated smart home is great if you can afford it, most of us will simply add to the smart devices in our lives over time.
In the interim, it is easy to reduce the amount of time, energy and money your business wastes by simply making your company vehicles smarter.
By installing a small tracking system in your vehicles, they instantly become connected. Able to be tracked, monitored and controlled. You will not only reduce your insurance premium and help to deter theft, but you will save money on fuel and repair costs, reduce your company's environmental impact and save valuable time by working smarter.
Thanks to 24-hour GPS monitoring and Phantom Insight, you can make sure your drivers do not employ bad driving habits that cause excess wear and tear on parts, resulting in unnecessary amounts of CO 2 and fuel to be wasted.
If you are looking for ways to work smarter, call 0161 476 4050 to discuss how a tracking system from Phantom can benefit you.