Taking on new technologies: The construction industry gets smart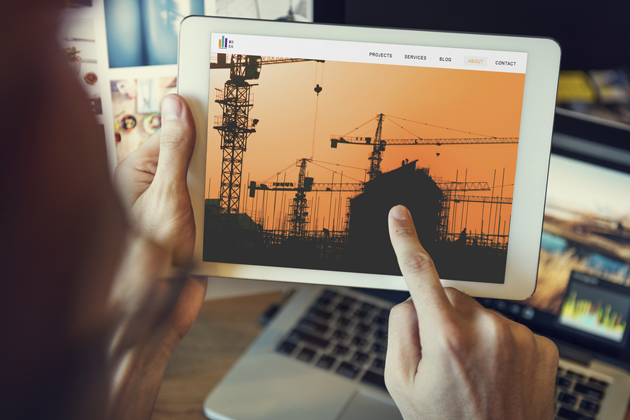 Our day-to-day lives are becoming increasingly digital. We live in a 24-hour connected world, where we socialise, communicate and are organised online.
With advances in technology and cloud-based solutions the way we work is changing, as many industries recognise the benefits of not being tied to an office, restricted by working hours or hindered by geographical location. The way we conduct business is more flexible, more efficient and more productive. As a result, collaborations with colleagues and customers are all the more creative.
The way we build is beginning to change too, and recent years have seen the construction industry starting to get smart by starting to go digital.
A Digital Revolution
Forget huddling around a tea-stained table in a stuffy old site office looking at 2D plans, the construction industry is experiencing a technological revolution.
Building Information Modelling (BIM) has been around for a while and allows a building to be assessed as a 3D digital model. It encourages creative exchanges between all parties working on a project and provides a place where all the information about the build can be found, updated and shared — from design and planning to services and construction.
But the construction industry's digital uprising has not stopped there: it appears it is not just mainstream gaming that has stepped up a gear with last week's release of PlayStation VR, it seems so has the construction industry.
Many leading architectural and construction firms are realising the benefits of utilising cutting-edge gaming technology, such as virtual reality (VR) and augmented reality (AR), in the construction process.
How VR is Used in Construction
By creating a virtual environment, both the aesthetics and practicalities of a new build can be fully explored. And not just as a 3D model, but as a space you can enter and explore.
Obviously, there are many benefits to being able to do this. But perhaps the most important is the ability to see if the potential space actually works and is fit for purpose, before the build begins.
A virtual environment makes it easier for builders and architects to negotiate structural and aesthetic changes with their clients, too. And to test all aspects of the build process, ensuring all areas are easily accessible and suitable to work in.
And as VR Computer-Aided Design (CAD) and VR headsets become more commonplace and more affordable, more and more firms will begin to benefit from this technology.
Fewer Mistakes, Less Waste
The increase in productivity that VR technology brings, is great for large construction projects where mistakes can be costly. A virtual model of a building or project means issues can be identified and resolved at the design stage, rather than having to correct errors when building work has already been done.
This massive improvement to efficiency is not only great for saving money, but is also excellent for saving the environment. Fewer build errors means less construction waste.
Get Smart, Get Digital
If this futuristic technology is, for the moment, out of your reach, there are other ways in which technology can help your company.
Savvy site managers are starting to ditch paper time sheets in favour of a more effective smart solution. Digital time sheets remove the need to duplicate information concerning working hours and wages owed, easing administration and saving time.
But how else can you utilise technology to increase the productivity and efficiency of your company?
By having a tracking system installed in your work vehicles, you will be able to track the whereabouts and working hours of your fleet, and therefore your staff, thanks to 24-hour GPS monitoring. Ensure driver efficiency by keeping an eye on driving styles, routes taken and unauthorised usage. And you will be able to easily access historical journey reports.
Tracking systems will also reduce your insurance premium and help to deter vehicle theft.
So, if you are looking for ways to incorporate technology into your company in order to improve productivity, call 0161 476 4050 to discuss how a Phantom tracking system can benefit you.