Filon Products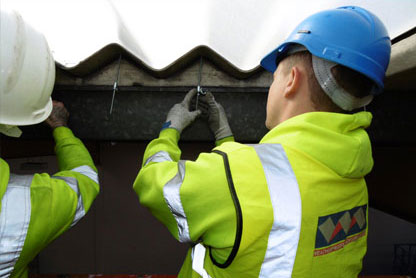 Filon Fixsafe is 'first choice' for industry-leading roofing contractor
Weatherproofing Advisors Ltd, one of the UK's leading industrial and commercial roofing contractors, has made Filon Fixsafe a key part of its stringent Health & Safety programme.
Weatherproofing Advisors attaches the greatest importance to health and safety, considering this to be a responsibility ranking above all other management functions within the organisation. The company has even created a memorable marketing campaign around safety super-hero 'R.U. McSafe' – to highlight its zero-tolerance approach to safety on-site. So when Director James Turner was made aware of the Fixsafe system for safe replacement of roofing sheets, a demonstration was immediately set up and a project involving 264 No. replacement roof lights quickly followed. Read More
---
Filon rooflights deliver multiple benefits for expanding steel stockholding business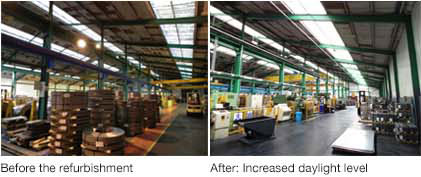 Steel Processing (Midlands) Ltd is a privately owned steel stockholding and processing business based in Burntwood, Staffordshire. As part of a recent investment to accommodate a new state-of-the-art slitter line, the company has recently built a new 15,000sq ft factory extension and has carried out a major refurbishment of their existing 35,000 sq ft unit.
Steel Processing Operations Director Gareth Jones, said: "The rooflights on the existing building were old and discoloured, so natural light levels in the building were very low, resulting in high energy consumption for the electric lighting. Even with the electric lights on, the quality of the flight was not great and made for a slightly oppressive atmosphere." Read more
---
Filon GRP rooflights create the ideal storage conditions for Lidl in Runcorn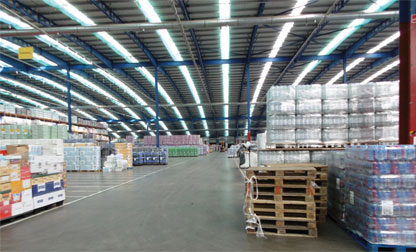 Over 3700m2 of Filon Monarch F GRP barrel vault rooflights have been installed at the Lidl Distribution Centre in Runcorn, Cheshire as part of a refurbishment program by Ascot Property Maintenance Ltd.
The existing polycarbonate barrel vault rooflights had started to fail, resulting in water ingress in some areas of the building. A further long-term problem with the existing rooflights was direct, un-diffused light which was causing glare and localised heat build-up: both unwelcome characteristics in a food storage warehouse environment. Read more
---
Filon sponsors NFRC Scotland Awards

Filon is proud to have played a part in this year's NFRC Awards in Scotland, as sponsor of the Roof Sheeting category. Pictured here, left to right, are: George Brownlie and Ian Brownlie (Filon Sales Agents for Scotland), Mark Wilcox (Filon Products), TV presenter Hazel Irvine, Ritchie Walker and Keith Burrell (Procladd Scotland Ltd – the winning contractor).
About Us
Filon Products is one of the UK's leading manufacturers of GRP (Glass Reinforced Polyester) products for building and construction. We are a successful business with a long track record of developing and marketing innovative products. Many of these have become accepted industry standards.
Contact Us
Filon Products Limited
Unit 3 Ring Road
Zone 2
Burntwood Business Park
Burntwood
Staffordshire
England
WS7 3JQ
T: +44 (0)1543 687300
F: +44 (0)1543 687303
Products and Services
Don't let 'Brexit' change your focus!
Welcome to issue 17 of Roofscape – the first since the UK voted to leave the EU.
Inevitably, since Brexit there is a degree of uncertainty surrounding the construction industry. What we all need is a speedy conclusion that will bring long-term stability and growth.
Here at Filon, it's definitely 'business as usual'. We have a busy order book and a positive outlook.
Bring on the challenges of 2017!
Best regards,
Mark Wilcox
Sales Director
---

Download Filon Products overview brochure
This new brochure outlines the breadth of Filon's product range – from rooflights and roof refurbishment, to sign panels and more. Download now
---

Filon joins RIDBA
Filon Products has joined RIDBA, the Rural & Industrial Design & Building Association.
---
CPD Seminars
Have you seen our CPD Seminar on failing rooflights and how to identify the materials and carry out repairs or replacement? Book now!