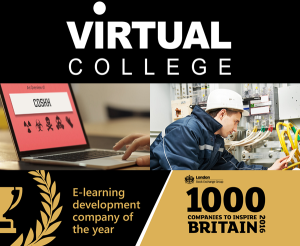 Virtual College
About Us
Virtual College are one of the UK's leading providers of online learning and learning management software. We have been at the forefront of e-learning for over 20 years and have vast experience of developing and deploying training that delivers high impact for individuals, teams and organisations.
With over 2 million learners, to being voted as e-learning development company of the year 2015, we constantly strive to deliver up-to-date and engaging online learning, supported by the very latest in learning management system technology to encourage individuals and organisations to reach their full potential.
Who do we work with?
From construction to healthcare. Retail to housing – we've worked with over 1,000 companies to give them the training they need.
With an extensive list of internal sector experts, we know more than most how every company has differing training requirements. That's why we always try to maintain a close relationship with all our customers, to ensure we are delivering training that works.
But don't take our word for it – take a look at our case studies to see what companies are saying about us!
How can we help you?
With over 300 online courses available for you to choose from, you've got the flexibility to add whatever you'd like. Take a look at the packages link below to see what we can do for your business.

Contact Us
Marsel House,
Stephensons Way,
Ilkley,
LS29 8DD
United Kingdom
T: 01943 885085
Products and Services
Our online compliance training package allows companies of any size to offer high quality, affordable compliance training to all their staff.
Companies can create their own package by selecting from a choice of 25 courses including Asbestos Awareness, Manual Handling and Working at Heights.
The online system records all course allocations, completions and results for easy reporting when it comes to evidencing compliance.