Active Buildings: An Introduction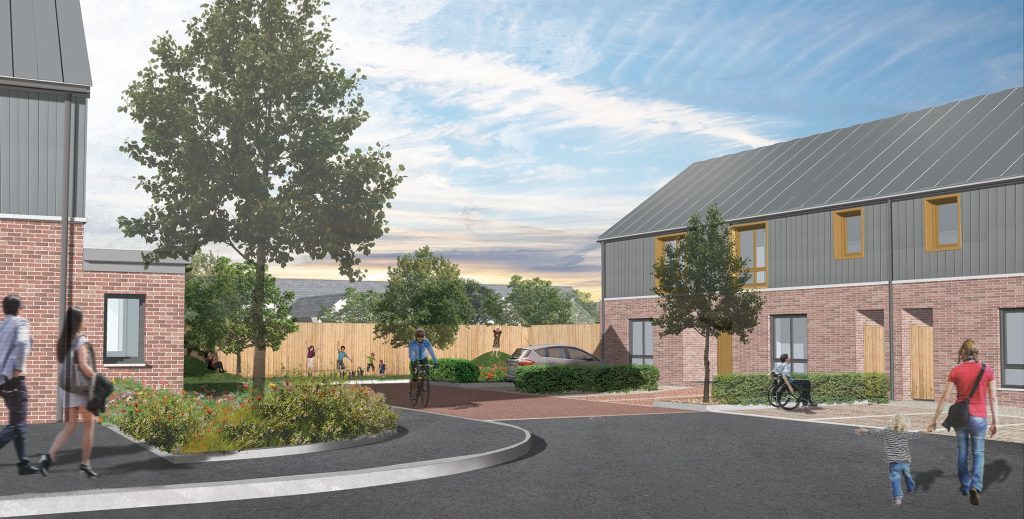 Reaching its first birthday milestone in November, the Active Building Centre was established as part of the government drive to improve productivity and sustainability within construction.
The Active Building Centre is funded by UKRI as part of the Transforming Construction Challenge through the Industrial Strategy Challenge Fund (ISCF). Transforming Construction seeks to make buildings more affordable, efficient, safer and healthier. Active Buildings contribute to the Clean Growth Grand Challenge aiming to at least half the energy use of new buildings by 2030.
In this article, we speak with Simon McWhirter, Head of Engagament at the Centre about some of the challenges facing the construction industry and progress made by the Centre over the past year.
As we start a new decade, the construction industry is presented with an opportunity to reassess and reinvigorate its net zero carbon strategy. While 2050 may seem in the distant future, we still have a long way to go to make tangible, long lasting change.
Certain topics will remain on the agenda moving forward. Construction methods, such as offsite and modular, and structural solutions, whether lightweight steel frames or the latest in precast panelling, continue to be relevant. Sustainability will, and must, be a driving force for change. We're seeing this as a key priority for policy makers, contractors and developers who understand the need to introduce more eco-friendly systems and processes.
As we face a looming skills shortage, emphasis is being placed on the materials we use and the benefits of automation. However, less attention has been given to the life of the buildings themselves, their energy consumption and resulting carbon emissions. To put this into perspective, recent research by Policy Connect found that, after they've been built, domestic, commercial and public buildings account for 20% of the UK's greenhouse gases, roughly equivalent to the levels from cars.
We need to encourage the industry to radically reconsider the way buildings themselves operate.
Weening ourselves off gas dependence is a crucial part of this drive. While government's intention to phase out gas boilers in new builds by 2025 is welcome, it's not enough on its own.
Fortunately, there is innovative work going on across the UK to develop systems and solutions which will help minimise the impact of climate change while effectively improving the environment. One of these, with which I'm directly involved, are 'Active Buildings'.
Going beyond simply minimising energy use, Active Buildings create a structure which is virtually energy self-sufficient, allowing for intuitive collection, storage and use. Rather than focusing on singular innovative technology solutions, they reflect a systems-based approach to sustainable buildings. It's a low carbon option which has the potential to significantly ease pressure on the national grid, essential as our energy consumption rapidly increases and we move to non-fossil fuel generated electricity.
Buildings with benefits
Emission reducing solutions need to address a range of societal concerns, if they are to be realistically implemented for the long term. Along with effectively empowering homeowners, tenants and building managers, Active Buildings address significant fuel poverty concerns, improving air quality through reduced emissions and through encouraging EV adoption, both as a mode of transport and additional driver of energy storage and movement.
If we are able to explore the full potential of this technology through new electricity generation and storage, charging infrastructure, grid demand and supply metrics and integrated, smart control systems, the impact on transport could be considerable.
Adopting Active Building technologies at transport hubs, such as bus and rail stations and airports, would conjoin existing electrification of railways to electric taxi hubs, solar canopied car parks and the emerging electrification of flight. Long term car parks become storage systems; short term car parks become charging systems.
The real thing
The first buildings to demonstrate the Active Building concept are at Swansea University, where they're used daily by staff and students.
Designed and delivered by SPECIFIC UKC, the Active Classroom was the UK's first energy positive classroom. It provides an example to the Materials Science students working within it of a building that actively demonstrates what they're learning about. Since being built, the classroom has generated 1.6 times more energy than it has consumed.
Built shortly after, the two-storey Active Office shares energy and information with the classroom, both providing data to feed into the development of predictive control strategies and performance specifications.
Demonstrating the potential of these buildings for EV use, our founder Prof. Dave Worsley has been able to cover over 20,000 miles of road in the last 12 months, solely using electricity generated from the Swansea University test site.
We're currently exploring how Active Building technology can transform residential developments within a social housing community. Sixteen homes will combine photovoltaic and battery technology, solar walls and air source heat pumps to provide low carbon, affordable energy.
Looking ahead
At the Active Building Centre, we are constantly working on new and innovation solutions which will define the energy efficient, self-sufficient buildings of the future. Our approach is empirical and data-driven so we have been able to observe the very real possibilities for Active Buildings first-hand.
The UK construction industry has the capability and capacity to be early adopters in this space. As trailblazers, it could take advantage of the coordinate model it offers to address climate and energy concerns, at the same time championing our drive to achieve our zero-carbon targets and a more sustainable society.
Simon McWhirter, Head of Engagement, Active Building Centre