Modern methods to solve housing crisis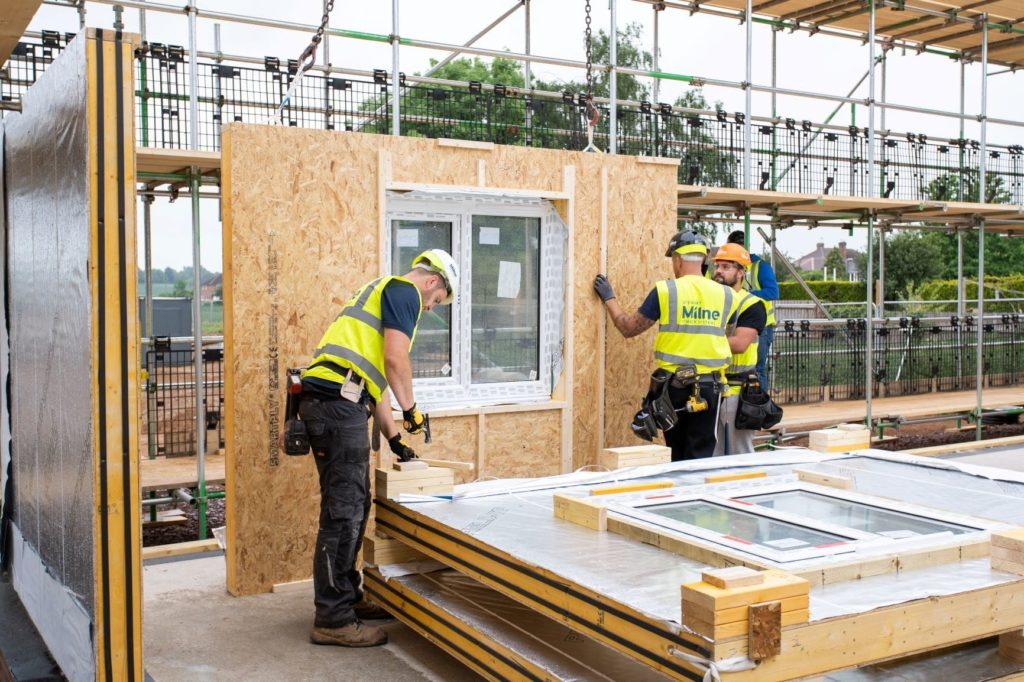 Debi Lama, National Account Manager at Stewart Milne Timber Systems, discusses how modern methods of building, such as offsite construction and timber frame, can help provide the solution to the housing crisis.
The word 'modern' in its literal sense means to advocate a departure from traditional styles or values, and it's an attitude the housebuilding industry must adopt wholly in order to address the housing shortage. Government statistics state the UK needs an additional 120,000 homes each year to plug the housing shortfall – a challenge the sector simply cannot meet by sticking to traditional construction methods.
Offsite construction is one modern building technique which can help the industry overcome the hurdles it faces: skills shortages, an aging workforce, poor productivity, low output and a materials shortfall, to name a few. However, offsite construction can help the industry deliver new, affordable homes in the volumes required, without compromising on quality or energy performance.
Speeding up build time while increasing capacity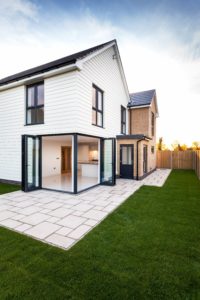 An accelerated speed of build will be essential for the sector to increase the number of new homes delivered. Offsite construction can tackle this specific challenge, including the ability to quickly produce large volumes of build systems to exacting standards.
According to a 2019 report on the construction sector by market research company, Mintel, UK Government housing targets are being missed due to a shortfall in industry capacity. However, offsite construction, coupled with a build system such as timber frame, enables the fast manufacture of high-quality, high-performance timber frame which is ready to be transported on-site, where a typical four-bedroom detached home can be erected, wind and watertight in as little as five days. Using offsite construction and timber frame, it's possible to complete a project of ten blocks of terraced houses five weeks earlier than if building with masonry or other traditional on-site methods.
Maintaining quality
Offsite production of timber frame ensures robust quality and guaranteed performance standards are met consistently. Offsite construction and timber frame enables a partnership approach with housebuilders and contractors from the initial design concept and development through to manufacture, delivery and construction, which is crucial to realising cost benefits.
Reducing costs
In any intensive, large-scale build programme there are cost pressures, but offsite construction can significantly reduce both labour and material costs. There is less reliance on trade skills and on-site supervision, and the faster build of the main structures reduces the management required to supervise and co-ordinate on-site trades. The accelerated build time provides a quicker return on capital outlay, and site preliminary expenditure can be reduced by up to 30%.
Ensuring sustainability is a priority
Using offsite construction and timber frame, sustainability is built-in during the design and manufacturing process, and taking a 'fabric-first' approach will support the Government's planned introduction of a Future Homes Standard by 2025, ensuring newbuild homes are future-proofed with low-carbon heat and power and world-leading levels of energy efficiency.
Offsite construction and timber frame provide housebuilders with many of the answers, but it's collaboration within the industry which will be crucial in bridging the housing gap. Industrialisation through offsite construction and the adoption of other innovative construction methods, such as digital working and lean site assembly, can deliver high-quality homes costing the same or less than houses which have been built traditionally.
Case study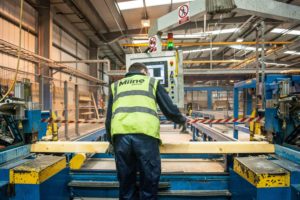 Stewart Milne Timber Systems is involved in a revolutionary industry project to promote these processes, with the aim of them becoming viable mainstream alternatives to traditional construction methods. The Advanced Industrialised Methods for the Construction of Homes (AIMCH) project has received £4M funding from Innovate UK under the Industrial Strategy Challenge to develop industrialised, near-to-market panelised offsite solutions to deliver homes which are built 30% faster with a 50% reduction in defects.
The initiative has the potential to deliver 35,000 homes across the UK each year and may be the stimulus the housing sector needs to move towards advanced, digitally integrated manufacturing processes.
The project goes some way in helping the sector address the challenges it faces, all while demonstrating construction methods which build high-quality homes both quickly and viably. It is expected the project will deliver new valuable digital design tools, manufacturing advancements and leading offsite systems which can be adopted by others within the housing sector to improve and increase housebuilding efficiency and quality.
Recently, Stewart Milne Timber Systems also announced a ground-breaking partnership to deliver timber frame for more than 1,500 homes for L&Q, one of the UK's leading housing associations.
The deal forms a key part of L&Q's innovative Modern Methods of Construction strategy, which will see all of its new build homes delivered with some form of MMC by 2025, with an entirely off-site manufactured home completed by 2028. The partnership highlights again the real impact collaboration within the industry is having in a move towards widespread adoption of MMC.
One day soon, these processes could be recognised as the new, 'traditional', mainstream way to build homes, and it's then we'll have implemented a lasting solution to meet current and future housebuilding demands.
If you would like to read more articles like this then please click here.