Building into education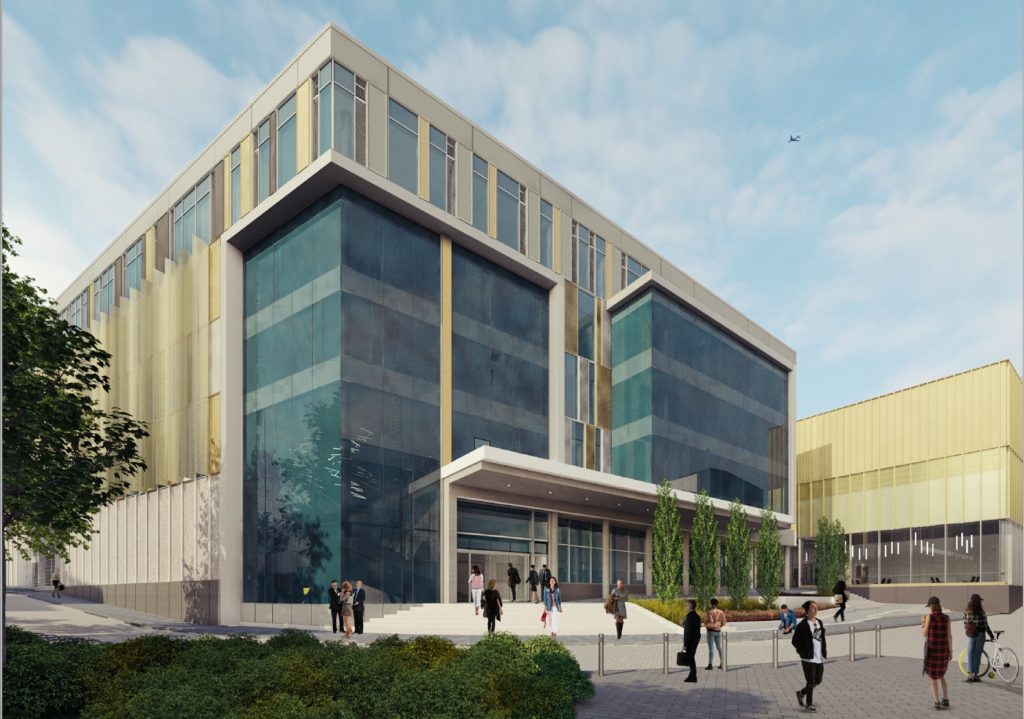 Construction output in the education sector saw four years of consistent growth from 2012 to 2016, and reached a peak in 2016 at around £11.2Bn, driven by investment in both the school and higher education estate. However, output declined slightly in 2017 and forecasts indicate that output will moderate over the short term before returning to growth in 2020 and 2021. In the schools and colleges sector, demand continues to be strong and the pupil population is expanding rapidly. The need for additional school places is expected to exceed 420,000 by 2021.
Education construction is a significant part of the overall UK construction market, representing an estimated 17% of total UK construction output.
While capital budgets remain constrained, the need for investment in education construction is recognised by the current Government, which announced £23Bn of capital investment in the 2015 Spending Review to cover the opening of 500 Free Schools, and provision of over 600,000 additional school places. In the 2017 Spring Budget, it also pledged an additional £320M to help fund up to 140 new free schools as part of plans to increase investment in local infrastructure and relieve pressure on local authorities for increased school places.
Broadly speaking the schools and colleges sector accounts for 65% of the industry sector while the schools and colleges sector accounts for 35%. Total construction output in the higher education sector is therefore worth close to £4Bn with public sector construction representing slightly over one third of this.
In the higher education sector, rising student numbers have placed additional strain on university infrastructure – both teaching and residential accommodation. The UK now has over 1.74m undergraduate students in full-time higher education. However, in the most recent academic year, student numbers declined driven by the uncertainty for EU students surrounding Brexit and higher tuition fees. Going forward, the impact of potential immigration targets on EU student numbers coming to the UK and fee levels remain key issues of concern.
The introduction of tuition fees has caused considerable change to the higher education structure in England and Wales as it has made it possible for private and independent institutions to enter the sector. The Government has stated that it expects universities to make greater use of private finance including bank credit, tuition fees, income from research grants, capital endowments, PFI, charitable trusts and private corporations and sponsors.
In addition, UK universities continue to increase their investment in new buildings, with around £1.8Bn worth of contracts awarded over the past year, including 8 contracts worth over £50M. A further £580M of contracts have also received planning approval. The purpose-built student accommodation (PBSA) market represents a significant opportunity for contractors and developers as accommodation remains undersupplied in many cities.
Universities are becoming increasingly commercially aware when it comes to development, and over the past five years, there has been a trend for universities to build their own student accommodation and to use their property estates to generate income that can then be invested back into the campus. As well as selling off property that is no longer needed, many universities are working in joint venture with developers to build student accommodation.
In terms of schools and colleges, the number of students across all school types continues to rise, with most of the increase being primary school students. Between January 2016 and January 2017 alone the number of pupils across all school types rose by 110,000, with 74,500 of these entering primary schools. Despite this increase in numbers the total number of schools fell slightly in the same period due to a decline in the number of nursery schools, special schools, pupil referral units and independent schools. The decline in the number of schools overall, coupled with the increase in pupil numbers, means schools are on average larger.
Construction of primary and secondary schools makes up a significant part of the UK education construction market and represents over 75% of total public sector education output. Despite recent improvement in output, this area has been impacted by the increasing use of private sector finance for capital building projects, such as within Academies and Free Schools, for example, shifting expenditure away from the public sector. However, the schools sector is likely to continue to dominate as the estate is much larger than that of the higher education estate and requires greater maintenance, and as pupil numbers grow, requiring additional places to be created.
Building programmes in England's education sector are being led by the Priority School Building Programme (PSBP), the first phase of which is currently underway and will help rebuild 260 schools. For the second phase, the Government has allocated a further £2Bn. In Scotland, the Schools for the Future Programme, worth £1.8Bn, is expected to deliver around 112 schools up to 2019, while in Wales, the main investment programme for the education sector is the 21st Century Schools Building Programme, which aims to upgrade and extend the entire stock of schools in Wales.
A key characteristic of education output in recent years has been the growing share attributable to the private sector. The private sector only accounted for around 22% of education construction output in 2010, but now accounts for just under 50%.  This shift is due to the development of the Academies, Free Schools, FE Colleges and University programmes, which have seen more private sector involvement in the commissioning and delivery of new projects. Independent schools are a smaller source of private sector construction work. However, despite the recent budget cuts the Department for Education still represents the single largest client for construction work in the schools & colleges sector.
The overall education construction market is forecast to see modest growth performance over the next few years, reflecting an existing high level of annual construction output, supported by the growing population in relevant age groups and a need for investment across many schools, colleges and universities, but constrained by public sector budget limitations and the potential impact of Brexit on funding streams for universities.
The 'Education Construction Market Report – UK 2017-2021 Analysis' report is published by AMA Research, a leading provider of market research and consultancy services with over 25 years' experience within the construction and home improvement markets. The report is available now and can be ordered online at www.amaresearch.co.uk
If you would like to read more articles like this then please click here.