Redefining excellence in I&L construction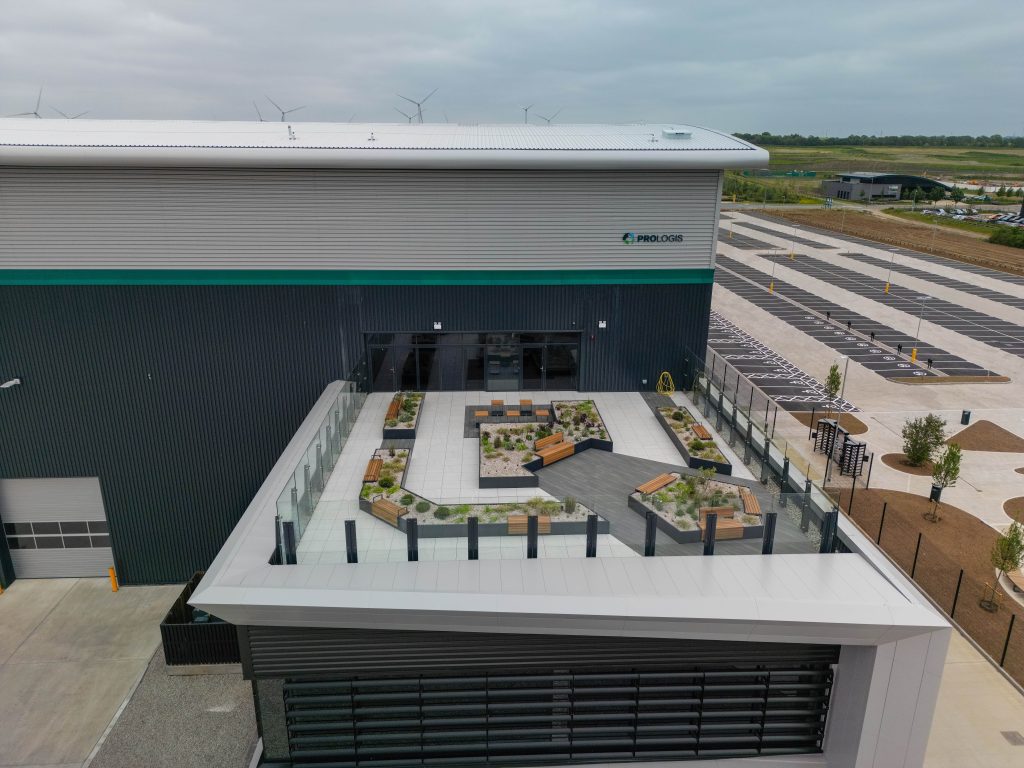 As more businesses across industries shift their corporate focus to taking their Environmental Social Governance (ESG) performance to the next level, there's a growing need for the industrial and logistics (I&L) property sector to benchmark its buildings and activities and underline what success looks like, says Jamie West, Vice President, Development Management at Prologis UK.
In a bid to continually push for the highest construction standards, leading logistics property investors and developers are driving innovation within the sector to promote portfolios that truly exemplify sustainable development methods and processes. Focusing on the reduction of carbon emissions – both during the construction and operation of their buildings – means the industry is seeing more and more developers achieving net zero emissions targets and pushing the boundaries of what is achievable.
Emerging trends in the workplace also mean that employers are having to think much more carefully about providing spaces where employees want to spend time, as well as ones that meet the needs of the business. This has involved many investors and developers in the I&L sector facing the challenge of combining practicality (does the building fit its intended purpose), sustainability (does the building support ESG goals) and employee-centricity (is the building somewhere people will enjoy working).
Recent significant investments into vital UK infrastructure, such as two new Prologis UK buildings, DC628 & DC327 at Daventry International Rail Freight Terminal (DIRFT) in Northamptonshire, have highlighted an elevation in what it means to be a market leader in logistics property. Incorporating the specific needs of customer, from requests such as more natural light and restroom facilities, with market leading net zero construction methods, means the buildings have helped set a new standard for I&L property.
Focusing on enhanced design aesthetics as well as functionality has led to space-making details becoming the norm across premium logistics space. Some features include rooftop terraces and high-spec communal breakout areas, which elevate the warehouse from a space that is purely used for work, to one that can be enjoyed by employees too. This push for form as well as function, includes features such as enhanced architectural design and careful integration of brise soleil paneling, which not only elevates the aesthetics of the warehouses, but provides a tactical function by limiting the amount of sun beaming into the offices.
As well as this, developers like Prologis UK are choosing to include panoramic dock glass doors and second-tier windows above the dock doors. This not only improves the aesthetics of the buildings but both additions are designed to increase the amount of natural daylight and provide the customer with the option of adding a mezzanine floor. As part of its future-proofing focus, in addition to already installed EV charging points in car parking, new Prologis warehouses are ready for future electrification expansion via dedicated zoning, supporting the business' long-term commitment to its customers, and its portfolio.
Staying ahead of the needs of customers also means that modern I&L buildings are also constructed to market-leading standards, which focus on providing easily replicable specifications that can be transferred to other projects.
Being built to strict parameters that govern the aesthetics, aspect ratio and construction methods, means that it's now possible to target – and achieve – 'EPC A+' ratings through the inclusion of the latest renewable energy systems and onsite storage options. Through doing so, modern I&L buildings can generate more energy than they use, while state-of-the-art all electric heating and cooling systems ensuring workspaces are suitable for a wide range of industrial activities.
As high-specification builds become more commonplace across the sector, pushing the boundaries in terms of customer-centric design is becoming more important than ever before. Staying ahead and remaining a leader within the I&L space means ensuring that products are constantly evolving alongside customer need. This is achieved through consistent communication between developers and customers and through fostering a culture of open-dialogue and trust.
Increasingly, going above and beyond simply the construction of I&L property is what sets the leaders apart within the industry. Excellence in construction is not just defined through the processes and materials used for space within the I&L sector but through ensuring that the ongoing net benefit through not only providing the highest possible standards in logistics property but also creating a space and workplace that is attractive to employees and potential future employees.
Jamie West is Vice President, Development Management at Prologis UK.
If you would like to read more stories like this, then please click here