Carpenters Land Bridge installed at Queen Elizabeth Olympic Park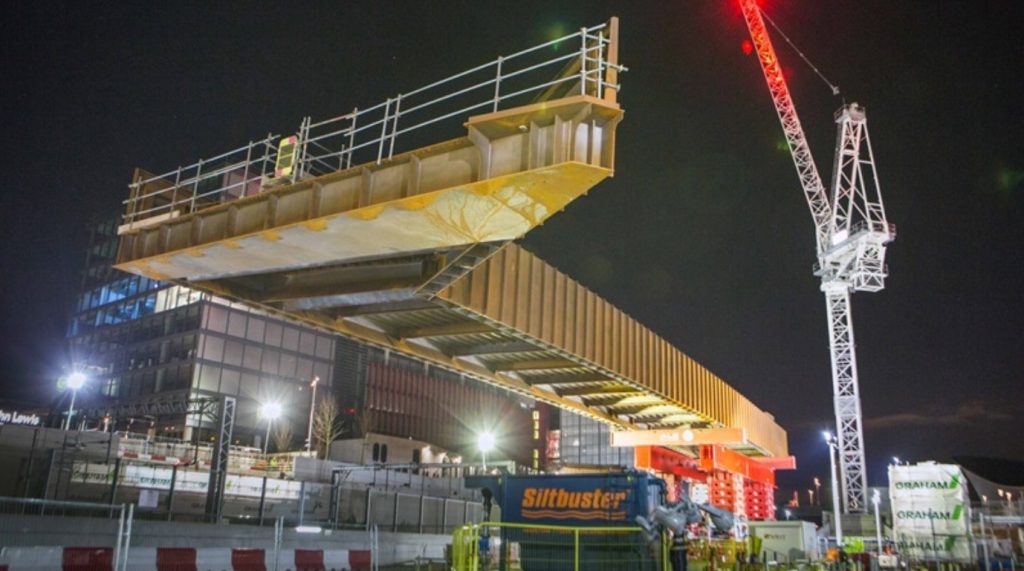 Over the course of Christmas Day, the two contractor companies GRAHAM and Mace Construction Ltd worked to install the new Carpenters Land Bridge to connect the East Bank to the International Quarter London in Queen Elizabeth Olympic Park.
Measuring at 66 metres long, and more than seven metres wide, and weighing a total of 350 tonnes, the Carpenters Land Bridge will be used by pedestrians and cyclists and is a key infrastructural feature of the £1.1Bn education and creative district which is currently underway at Queen Elizabeth Olympic Park.
The Executive Director of Development at the London Legacy Development Corporation, Rosanna Lawes stated: "Our thanks go to all the hard-working construction staff who have made fantastic progress, especially those from GRAHAM and their contractors who were hard at work over the Christmas holiday to deliver this fantastic new bridge."
GRAHAM served as the principal civil engineering body on the project with support from Mace, installing the bridge components using self-propelled modular transporters in addition to the more tradition use of a crane.
The Deputy Mayor for Culture and the Creative Industries, Justine Simons OBE commented: "The installation of the Carpenters Land Bridge is another key moment in the East Bank development. It will provide access to local people and visitors from around the globe to the world-leading institutions that are set to be based at the country's new powerhouse of culture, education, innovation and growth."
The Mace Chief Executive Officer for Consultancy, Jason Millett added: "The East Bank development at Stratford Waterfront is a vital element of the continued regeneration of the Queen Elizabeth Olympic Park and the installation of Carpenters Land Bridge is a major milestone in unlocking this new cultural and education district.
"As LLDC's project management partner and principal contractor on Stratford Waterfront, Mace has the privilege of overseeing the entire delivery of the East Bank scheme, but this bridge lift certainly stands out as one of the most memorable moments so far.
"The dedication of everyone involved to achieve such a complex operation under incredibly challenging time constraints, and on a day that is very important to a lot of people, must be praised."
If you would like to read more articles like this then please click here.