Bennett secures contract to build retirement village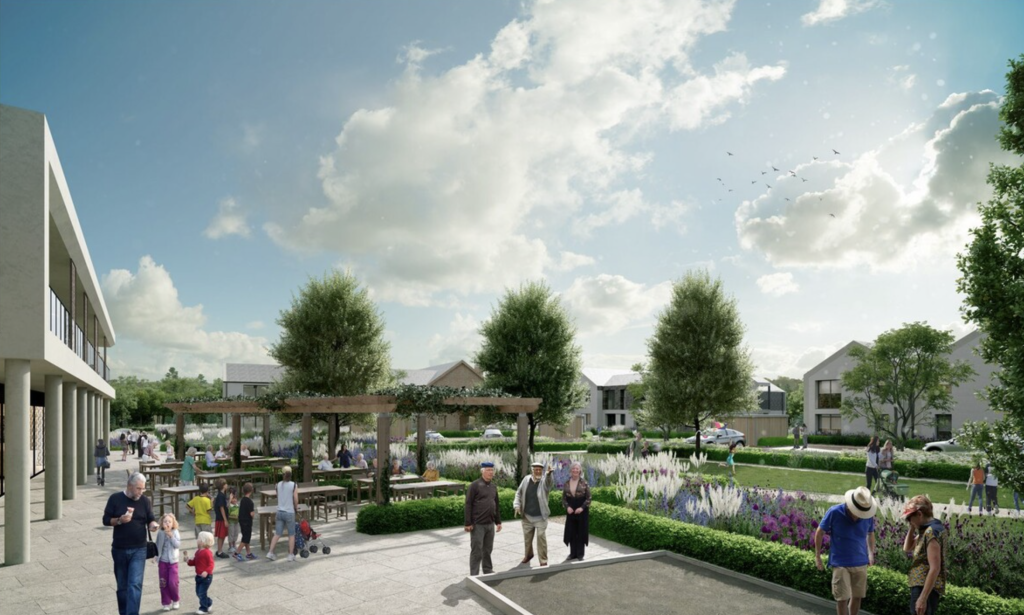 Bennett Construction have announced they have been awarded a significant contract for Rangeford Villages in excess of £50m for a new retirement village in Stapleford, Cambridgeshire.
This achievement marks the second major construction contract that Bennett has secured in the Cambridge region in recent weeks, further solidifying its position as a key player in the construction industry.
The new scheme will offer 147 contemporary retirement properties with the first phase of the scheme estimated to be completed in 2024 and the building is due for completion in 2025.
The site is in the attractive hamlet of Stapleford, four miles south of Cambridge and borders Magog Down, a 163-acre reserve on the Gog Magog Hills with views of the surrounding countryside. The development is being built on a piece of land, previously used for growing strawberries.
Bennett Construction and Rangeford villages celebrated the start of construction of the retirement village with a breaking ground ceremony.  The ceremony was attended by Cllr Peter Fane, Chair of Council and Vice Chair of Planning committee, members of the Magog Trust*, as well as members from the Bennett and the Rangeford Villages team.
Speaking about the new scheme, Howard Nankivell, CEO of Rangeford Villages, said: "The Strawberry Fields site is phenomenal, and we are keen to do it justice by providing quality homes facilities and services for its residents."
Paul McGee, Joint Managing Director from Bennett Construction said: "We are delighted to begin work on the Stapleford project for Rangeford. This is a flagship project for ourselves and our client  in the retirement living sector and we look forward to delivering a very high quality product in the collaborative approach that we bring to all of our projects."
Homes at Strawberry Fields will be built with the needs of over 60s in mind, with provision of onsite care for residents, allowing them to live independently with confidence.
The new village will feature a range of sensitively designed bungalows and apartments, incorporating state-of-the-art amenities, energy-efficient features and the creation of amenities to encourage residents to lead an active and healthy lifestyle.
Facilities will include a wellbeing centre (pool, steam room and sauna), gym, dance studio, bistro, coffee shop and bar, village hall and a hair and beauty salon.
image courtesy of Bennett Construction
If you would like to read more stories like this, then please click here.