First modular cells unveiled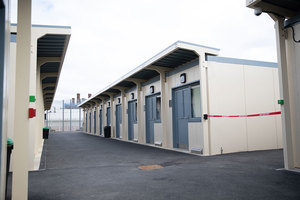 New modern prison cells that can be built and rolled-out at speed have been unveiled at HMP Norwich.
The new units are the first of 1,000 Rapid Deployment Cells being rolled out at 18 prison sites across the country to meet the rising demand for prison places.
The first 48 cells at Norwich are already taking their first prisoners, having been constructed and lifted into place just seven months after the signing of contracts.
It comes as work began on a £38M renovation of HMP Norwich's Elizabeth Fry wing which will create over 170 new jail cells by 2025.
Minister for Prisons and Probation, Damian Hinds, said: "Prison cells protect the public by making sure we have enough space to put dangerous offenders behind bars – that's why we're investing £4 billion to deliver 20,000 extra places.
"We're rolling out a thousand Rapid Deployment Cells to create extra spaces quickly while we press ahead with the biggest expansion of prisons in over a century – building six new jails and creating thousands of additional cells by renovating and expanding existing sites.
"The first rapid cells at HMP Norwich are already boosting capacity while our multi-million-pound renovation of the Elizabeth Fry wing will create long-term places to protect the public."
Rapid Deployment Cells have a lifespan of around 15 years and are designed to quickly create extra capacity across the prison system estate to meet rising demand, while longer-term expansion is underway.
Thousands of new prison places across the country are being delivered by expansions and renovations to existing prisons. In June the government announced a £500 million contract to create 2,200 extra places by building new house blocks at 6 prisons, while major renovations at HMP Birmingham and HMP Liverpool – where every cell is being renovated – will create more than 600 new places between them.
The government is delivering the biggest expansion of prison places in over a century, creating 20,000 additional places to achieve the vision set out in the Prison Strategy White Paper of a resilient system which can meet the capacity demands of the 21st century. This includes building sxi new jails backed by over £4 billion.
This spring the 1,700-capacity HMP Fosse Way near Leicester will open its doors, and construction has already started on HMP Millsike, the UK's first all-electric prison in East Yorkshire, which will hold nearly 1,500 prisoners when full.